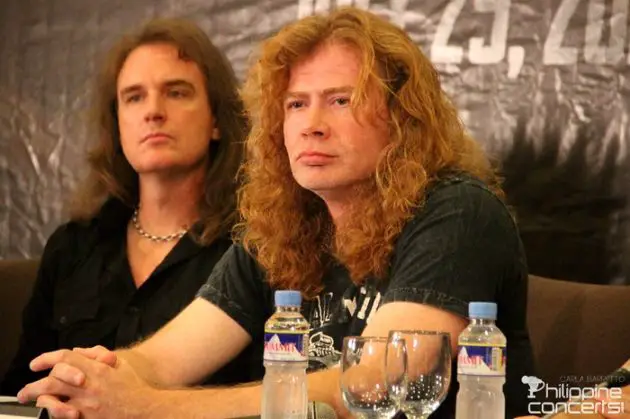 During a recent episode of SiriusXM's "Trunk Nation L.A. Invasion," MEGADETH mainman Dave Mustaine spoke about the fact that the band's lead guitarist Kiko Loureiro received songwriting credit on eight of the 12 tracks that are featured on MEGADETH's new album, The Sick, The Dying… And The Dead!.
"I think a lot of that had to do with my being willing to open up my songwriting process to allow another player to get inside that circle," Mustaine said. "There's my songwriting process and then there's his and then what we do together. And sometimes I don't want anybody coming into my songwriting process and changing a riff.
"I came in on the record that [producer] Johnny K did — it was before Dystopia; I think it was Super Collider — I came in one morning and Johnny K was in there [working on] a song named 'Kingmaker.' 'Kingmaker' was done and I came in there, and I heard [then-MEGADETH bassist David] Ellefson and Johnny K in there recording a part at the beginning of the song. And it was nothing to do with the song; it had nothing… the riff wasn't in the record anywhere.
"And I came in and I said, 'What are you two doing?' [Makes sound of someone struggling to come up with the right words] You know, trying to explain, 'I'm gonna f*cking poach your song and I'm going to put one of my riffs in front of the song.' And it was so pathetic. I just felt so sorry for the two of them. I just said, 'Go ahead. Leave it in there.' But if you listen to 'Kingmaker' tonight when you go home, you're gonna hear the beginning of the song, there's a really dumbass part in there. And that's it."
As previously reported, Ellefson was fired from the group after sexually tinged messages and explicit video footage involving the 57-year-old musician leaked.
MEGADETH's upcoming studio album, The Sick, The Dying… And The Dead!, will be released on September 2 via UMe.