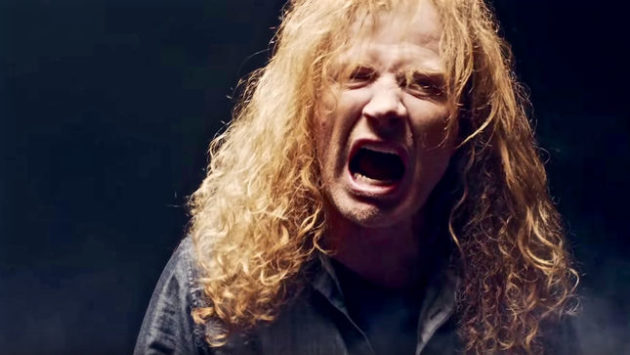 MEGADETH mainman Dave Mustaine was interviewed on the October 15 edition of "Whiplash", the KLOS radio show hosted by Full Metal Jackie. You can now listen to the chat using the widget below. A few excerpts follow (as transcribed by Blabbermouth.net):
On how his playing has evolved over time:
Dave: "I don't know that I'm a refined player. I think maybe my musical tastes are refined, but I still consider myself to be rough around the edges with my playing. I like stuff that excites me, that makes me feel alive. I remember for the longest time when the band had kind of gone on hiatus maybe ten, fifteen years ago, and the only way that I could get up in the morning was to listen to really stimulating music, and that song 'From Out Of Nowhere' by FAITH NO MORE was pretty much my go-to song every morning. I would put that in the player, and it was like Groundhog Day — as soon as the thing would start, I'd be up and at 'em. You never really know what the song is that's going to inspire you."
On the band's current lineup:
Dave: "Playing with Kiko [Loureiro, guitar] has been really rewarding out on the road, and learning a little bit more about him as a player. Not having a chance to have played with Dirk [Verbeuren, drums] yet — Dirk came as a recommendation from Chris Adler, and Chris had said how much he believed in Dirk. I have such high praise for Chris — I didn't really know there were many drummers that would even fit the bill of what Chris was saying, and meeting Dirk was just amazing. It was what we were looking for — someone that kind of had the playing ability and spirit of Gar Samuelson and somebody who lives for metal like we do. I think that getting into the studio with the four of is now is going to be super-exciting… We're all so familiar with each other right now, I think it's going to be a kick-ass record, and I look forward to it."
On whether current events have inspired any new lyrics:
Dave: "It became clear to me several years ago that when you start talking about politics, you immediately divide your audience in half. What in the beginning was quite tongue-in-cheek, kind of one-liner stuff started to unfortunately define me as a songwriter, and now people think that I'm a political songwriter, which I'm not. We write about all kinds of different things. But looking at the landscape right now, these are really, really crazy… look at the natural disasters, everything that's going on, the inability for anyone just about anywhere to get along. It makes you wonder, 'How did we become so devolved?' It's like 'The Decline of Western Civilization Part III'."
On MEGADETH bassist David Ellefson:
Dave: "He's kind of like a weatherman. He's somebody you count on seeing day-to-day and usually believe him a hundred percent, and if he's ever off by a little bit, he's earned that grace that you'll let him have a mulligan."
MEGADETH's latest album, "Dystopia" opened with 48,000 copies, marking MEGADETH's highest-charting album since 1992's "Countdown To Extinction" debuted and peaked at No. 2 on the chart dated August 1 of that year. "Dystopia" also logs the group's best sales week since 2007, when "United Abominations" landed at No. 8 with first-week sales of 54,000.