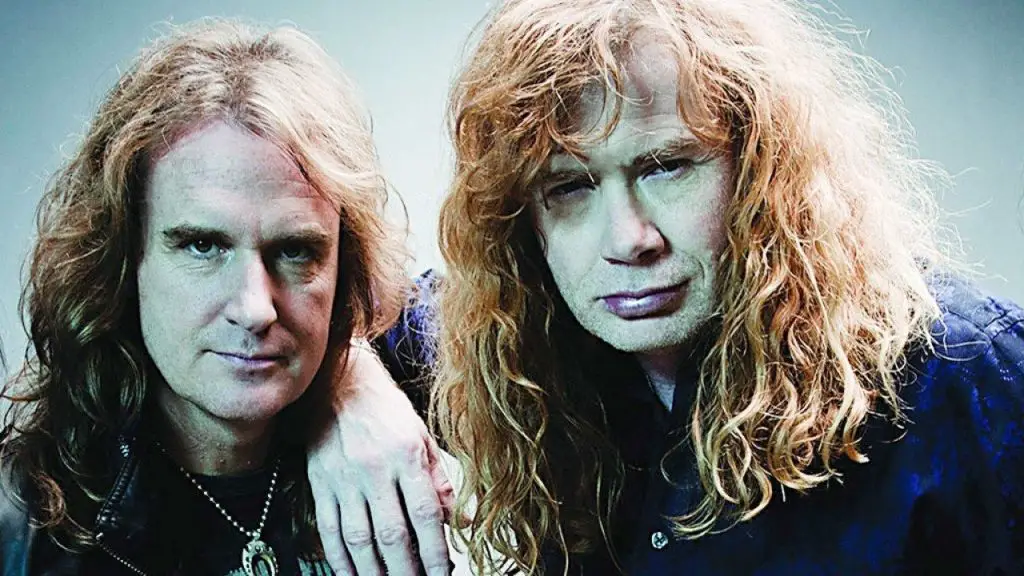 David Ellefson responded to Dave Mustaine's recent comments that former MEGADETH bassist tried to 'poach' band's song "Kingmaker."
During a recent appearance on SiriusXM's "Trunk Nation L.A. Invasion", Mustaine reflected on the writing process for MEGADETH's Super Collider (2013), saying: "I came in one morning and [producer] Johnny K was in there [working on] a song named 'Kingmaker'. 'Kingmaker' was done and I came in there, and I heard Ellefson and Johnny K in there recording a part at the beginning of the song. And it was nothing to do with the song; it had nothing… the riff wasn't in the record anywhere. And I came in and I said, 'What are you two doing?' [Makes sound of someone struggling to come up with the right words] You know, trying to explain, 'I'm gonna f**king poach your song and I'm going to put one of my riffs in front of the song.' And it was so pathetic. I just felt so sorry for the two of them. I just said, 'Go ahead. Leave it in there.' But if you listen to 'Kingmaker' tonight when you go home, you're gonna hear the beginning of the song, there's a really dumbass part in there. And that's it."
Now, while appearing on the latest episode of the "2020'd" podcast, Ellefson responded to Mustaine's comments, saying: "The record was done, or at least my bass parts were. And Dave, at the end of the session, at the end of the day, he said to me, he said, 'Hey, man. If you wanna go through the record, if there's anything you wanna add or tweak or change, blah blah blah blah,' giving me free license to do so, 'cause he had signed off on everything. So [I said], 'All right. No problem.' So after he left, me and [then-MEGADETH guitarist] Chris Broderick and Johnny K sat in the studio and I said, 'You know, I do have this one little bit, this little thing,' and I showed it to them, and Broderick goes, 'Dude, that would be really cool at the beginning of 'Kingmaker.'' And I said, 'Huh. Interesting idea.' And in my opinion, I think 'Kingmaker' is probably the better song on the record, just off the top for me. Johnny liked it.
"We sat and we worked on it and put it together. And we were all excited," Ellefson continued. "Dave walks in the next day in a much different mood — grumpy, I might add [laughs] and not feeling so joyous as the night before. And I think either me or Johnny said, 'Hey, I've got something I want you to listen to that we worked on last night.' And there was this kind of disapproving look. And Johnny plays it for him, all excited. 'Cause I think the three of us [Johnny, Chris and me] all heard the same thing: 'Hey, if you wanna add anything, if you wanna work on anything, please do.' Well, Dave didn't seem to maybe remember that conversation. And so what he walked into was, 'Why the hell are you messing with my song?' And I think he pulled Broderick aside and said, 'Don't you dare add David Ellefson's stuff to my songs.'"
Ellefson went on to say that the songwriting process in MEGADETH had drastically changed from the way it was in the first 20 years of the band's existence.
"I remember when I first came back to the band in 2010, we'd done a year of [touring in celebration of the 20th anniversary of] Rust In Peace. We had about 10 weeks to write the Th1rt3en record, the record that would become Th1rt3en. And I said, 'Well, look, we're all gonna be at NAMM in Anaheim. Why don't we just go down to [Mustaine's then-studio] Vic's Garage?', which was down in kind of by San Diego, Fallbrook area, north of San Diego. I said, 'Why don't we just get in a room and fire some ideas and see where we're at with everything?' And I swear to God, the first day we played… It took a couple of days 'cause we were listening to stuff. They wanted to listen to everybody's ideas. And [Dave] acknowledged everybody had a couple of things that he liked. And so we get in a room, guitars on, saddle up, and we started playing on something.
"And keep in mind, I hadn't been in this environment for almost 10 years now. 'Cause this was 2011, and the last time we worked on a record together was The World Needs A Hero in 2001, so literally 10 years [earlier]. And I'd been working with all kinds of other people where it's, like, 'Hey, killer idea. How about this? How about that?' You know — collaborative; you're having musical conversations in the room. And knowing how things had been in the past, Dave will start with something, bring in an idea, and maybe someone says, 'Hey, that's cool. How about we add this little bit here? Or maybe that riff goes with this riff.' And so I said, 'Hey, I've got something that might go with that.' Dave immediately took his guitar off, walked in the office.
"I looked at [then-MEGADETH drummer] Shawn Drover, and Shawn and Chris are just shaking their heads. I said, 'What the hell was that all about?' He goes, 'Dude, trust me. The days of collaborating are long gone. That MEGADETH that you were in, that's way over.' So [I spoke to Dave] in the office, and Dave, he was furious, but yet we didn't want our newfound friendship to deteriorate, so I said, 'What's the deal?' And he said, 'Don't try to put your ideas into my songs.' I said, 'No problem.' I said, 'All good. Today is day one. No worries.' And that was the last we ever jammed together. Everything after that, on every other MEGADETH record after that, it was just Dave writing the songs, doing his thing."
He also said that because of Mustaine's battle with throat cancer, MEGADETH was forced to work in a bit different way during the initial writing sessions for the band's new album, The Sick, The Dying… And The Dead!.
"In 2019, we were in the room together [working on music]. Actually, Dave was doing his thing, and then he was off taking care of his medical stuff at the time. And so [the engineer] Chris Rakestraw said to me, Kiko [Loureiro, MEGADETH's current guitarist] and Dirk [Verbeuren, MEGADETH's current drummer], 'Look, you guys are here. We need to write a record. We've got the beginnings of five songs,' and we were supposed to have been working on this record for a year and a half. 'Get in a room. Let's go.' So we saddled up and started riffing on stuff. In fact, I remember there's one song — it might have been that first one that they put out; I can't remember; it was one of 'em — but I remember we kind of modeled it after 'Black Friday' and just kind of took the sort of mellow intro into a full-on ripping part… So we went down, and I remember Dave came in [and was] furious that we were working on stuff without him.
"And Rakestraw took the bullet and said, 'Hey, it was my idea. These guys are here. Everybody's here to work. We need to get a record done.' And [Dave said], 'I wanna know who wrote what part where.' I could see it coming. I knew he was gonna see what parts I wrote and take 'em out, which he did — he took all my parts off the record, of which there were several, and either re-wrote 'em or changed them, just to make sure that I wouldn't have any writing on the record. And I just saw it coming. I rolled my eyes and [went], 'Whatever.' So I was there [at the studio in Nashville] for about five weeks and then I went home for Father's Day and I just never went back. [Laughs] I was just, like, 'Whatever.' I went back a year later to record bass, and all of sudden all of my parts are off the record, all of my writing contributions."
"I kind of saw the events of last year as just the perfect opportunity to choose box office over brotherhood," Ellefson added about Mustaine's decision to fire him. "I look back at it now and I feel like I got kicked out of hell. So, whatever. It was abusive, for sure. It was just abusive. It was unnecessary. … Dave even said he had a resentment toward me that he couldn't let go, and I didn't know what it was."