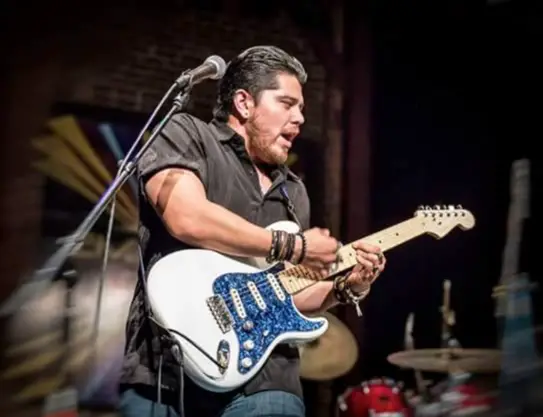 Formed in 2017, this Sacramento, California based band, fronted by Derek Fresquez, plays contemporary, guitar driven blues with gritty, soulful vocals, oozing with "feel"!  Derek feels everything he plays, giving his audience a glimpse into his soul, providing an authentic show to watch, music to feel, and plenty of groove for the dancers!  Now in his early thirties, Derek was raised in the blues.  He started playing guitar in his family blues band at age 14, where he found his passion for the guitar, and love of "The Blues".  He played guitar in his family band "Rumpshaker" until 2017.
This humble young man has a very special feel for the music, laying down killer guitar licks and those gritty vocals all night long. Derek plays with so much feel that we decided he must be an old soul in a young man's body. There's just no other way to explain it.  From rockin' to funky, to gut-wrenching slow blues, to uptempo jump style blues Derek gives 110%, thrills his audiences with every performanc
Vern Foster, the bands drummer, has roots deep in the local Sacramento blues scene for over 20 years.  In 2015, Vern was adopted into the "Rumpshaker" family blues band, where he met Derek.  The magic happened almost immediately the first time they shared the stage together!  The fit was just natural.
In no time at all Vern was able to feel where Derek's where he was going before he went there.
This was the essential connection that allowed us to write songs almost effortlessly.
Vern brings a funky groove kinda feel, and lays down a mean shuffle.  He loves Slow Burnin Blues, Funky Grooves, and holds a very special spot in his heart for SRV and that Texas rocked up blues feel.
In 2017, Derek's father and brother opted to focus on family activities.  Out of that decision "Cuttin the Chord" was born in September 2017.  The band's name is Derek's way to acknowledge and honor the family band he was raised in.
Now the search was on for the right bass player fit.   We put the word out, along with samples of the direction we envisioned, and the magic happened again!
Tony Holt heard that Cuttin the Chord was looking for a bass player.  Tony called up, said "I hear you need Bass… I'm Your Guy!"  One very short audition, and we knew it… He was absolutely right!  The rest is history in the making.  Tony hails from Cleveland, Ohio where he started playing bass at age 10.  Before leaving Cleveland Tony hosted a long standing blues jam, while playing 5 nights a week, and was a sought after 1st call session player.  Tony enjoys playing all styles of music, but his passion is playing driving Blues and Rock.  We're super jazzed that Tony moved to California!
Read our review here.