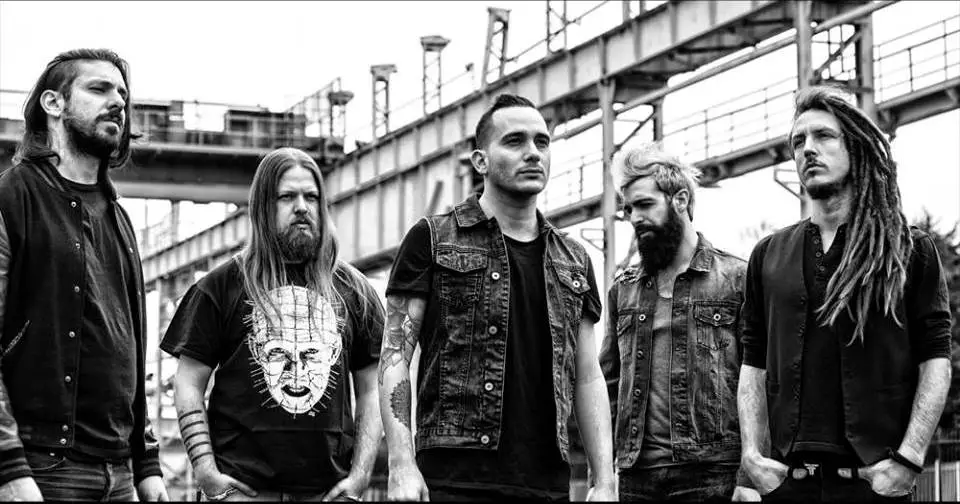 You can try to put DESTRAGE in a box but you will never succeed. Words such as "progressive", "cinematic", "mathcore", "technical" and "groove-laden", could be thrown at them, but really the only one you need is DESTRAGE, for they are in a category of their own making. This has never been more true than on "A Means To No End", the fourth full-length from the Milan, Italy-based 5-piece, due out October 21st via Metal Blade Records. Riveting from start to finish, it leads the listener through an emotionally-charged labyrinth of complex yet catchy melody and muscle, following nobody's rules, and it stands out as one of the truly unique releases of 2016.
DESTRAGE have now premiered a video for "Don't Stare At The Edge" which is the second single off the new album "A Means To No End". Check it out below!
DESTRAGE describes the video and song: "'Don't Stare At The Edge' faces the theme of fear, an emotion that paralyzes. Should we want more? Should we be cautious and stay with what we have? 'Maybe I'm trying too hard to keep this much together, when the pile falls apart into pieces, I have no hands to grab them" means that the expression "Less is more" may be true when it is about possessions, but wrong when it is about settling for undesirable, humble conditions like jobs we refer at as "just a a mean to an end…'"
"The fact is, 'less is a bore'. That's why we think that jumping down the cliff, hand in hand with fear, is a good thing. "Don't stare at the edge, take a good look down", even though heroes tell you to not look down when they come and they think they are saving you."
The video was written, edited and directed by Lorenzo Ameri and produced by Camilla Romeo.
Make also sure to check out the lyric video (directed by The Jack Stupid) for the first single, "Symphony of the Ego", which is still available at metalblade.com/destrage – where the record can also be pre-ordered on CD and vinyl.
DESTRAGE recorded "A Means To No End" at RecLab Studios in Milan, reuniting with their longtime collaborator Larsen Premoli, and his assistant Alex D'Errico. While tracking, at the suggestion of drummer Federico Paulovich, they brought percussionist Alessandro "Pacho" Rossi into the fold. Having entered into the writing process with no plans beyond simply wanting to write good music, the finished product – which is mixed by Steve Evetts and mastered by Alan Douches – is somewhat revelatory, and will certainly grab the attention of anyone exposed to it. Known for their powerful live shows, these tracks are sure to sound incredible when blasted from titanic speakers as the band take them to the masses.
"A Means To No End" track-listing
1. A Means to No End
2. Don't Stare at the Edge
3. Symphony of the Ego
4. Silent Consent
5. The Flight
6. Dreamers
7. Ending to a Means
8. Peacefully Lost
9. Not Everything Is Said
10. To Be Tolerated
11. Blah Blah
12. A Promise, a Debt
13. Abandon to Random