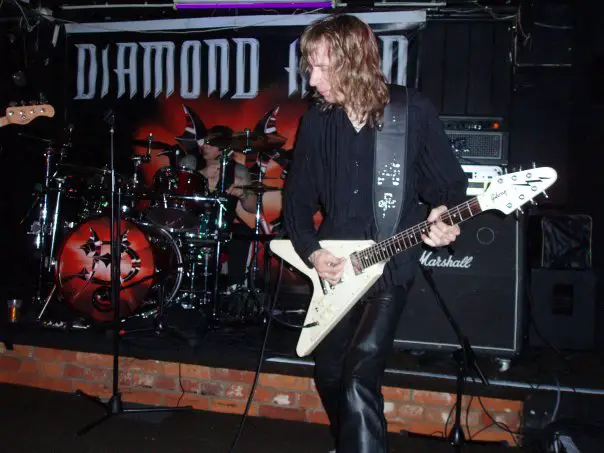 During a conversation with Louder Sound, Diamond Head guitarist Brian Tatler discussed the impact Metallica made on his life by covering his band's music on their 1998 covers album "Garage Inc."
The metal giants covered four Diamond Head tunes on the record: "It's Electric," "Helpless," "Am I Evil?," and "The Prince." As widely reported, Metallica's covers of DH songs can be traced to the band's earliest days.
Brian now commented:
"This album came out in 1998 and sold over five million copies. It contains four Diamond Head songs, and the royalties have changed my life a lot. I bought a house with my wife, and the constant flow of royalties mean that I no longer have to work."
Remembering how he first heard about "Garage Inc.," Tatler continued:
"In 1998, I was visiting our drummer Karl [Wilcox] in San Francisco, and I got a call from Lars Ulrich, who invited us to come and visit him at The Record Plant studio in Sausalito, California, where Metallica were recording 'Garage Inc.' Lars showed us around and treated us to a playback of 'It's Electric,' that they'd just recorded."

Later on we drove back into San Francisco to celebrate, and I asked Lars how many copies the record would sell. And he said, 'This is probably going to sell five million copies, based on the last few. So the beers are on you!'"To get four songs on a Metallica album… I've been very lucky there. It's just the way it is. They did great versions of our songs. They are very tight and make it rock. They introduced Diamond Head to millions of American fans that didn't know Diamond Head – because we had never toured the US back in the day.

"I sometimes think of some of the other NWOBHM bands that didn't get covered. It could have been Angelwitch. It could have been Tygers of Pan Tang. I'm just very lucky."
Back in 1980, Diamond Head self-financed the release of their debut album "Lightning to the Nations." Without the support of a single major label, the guys sold their music through mail orders for £3.50.
Not a whole lot of people noticed the band's ads, but one of them was young Lars Ulrich, who fanatically followed the group, wrote letters to them, and even traveled from LA to the UK during the summer of '81 in order to see Diamond Head live and meet the guys.
Tatler previously said about Lars:
"We were just talking, and Lars said he'd love to hang out with us for a while but he had had no place to live. He basically invited himself, so he stayed on the floor in a sleeping bag at my parents' house, where I was living. Then he went over to [ex–Diamond Head singer] Sean Harris' house and slept on his couch for three or four weeks.

"He never said he was a drummer who wanted to form a band. He was just this crazy fan, but we were impressed with his enthusiasm. He was so full of beans that he was fun to be around. And the whole time he was there he watched us and soaked in the Diamond Head experience."
Lars previously said about his Diamond Head experience:
"When I was really, really, really obsessed with something, there was some energy that drew me, I always wanted to get in there and figure out what's going on. I wasn't content with the mystery behind it all.

"I was obsessed with Diamond Head, and [in the summer of '81] I flew from Los Angeles, where I was living, to Heathrow [Airport in London] to watch them play in London in some small venue on the south side of the river. I walked in, they were playing, hung out, and I somehow [found] my way backstage and I said, 'I'm Lars from Los Angeles and I've written a couple of letters to your mother,' 'cause Linda Harris [mom of original DH singer Sean Harris] was the manager.

"Long story short, I ended up blagging a ride to Birmingham with them and ended up in singer Sean Harris' front room. I ended up staying with him and the guitar player, Brian Tatler, for the better part of the next six weeks, watching them write, watching them rehearse, riding with them to gigs. It was Diamond Head and me in a Morris Minor, a car where you could barely fit two or three people, and there was five of us.

"And it was really cool. That summer, between hanging out with Diamond Head and ending up in Motorhead's rehearsal room in London, that's basically what made me want to form a band. So after that summer I flew back to Los Angeles and called this guy James Hetfield who I'd met and said, 'Let's form a band.'"
Watch "Am I Evil?" alive with the Big 4: