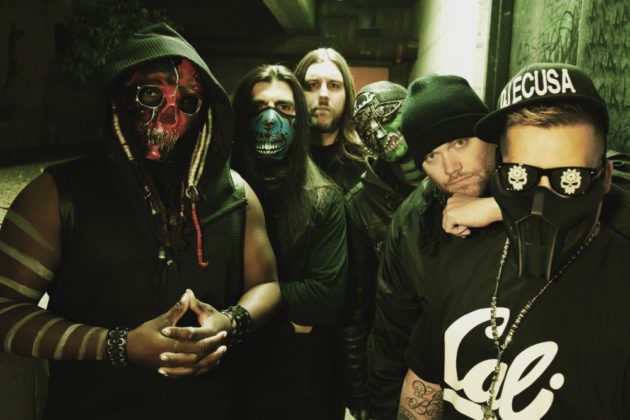 Alternative metal outfit DIRTY MACHINE from Los Angeles, California have released a powerful new music video for the track "Self Made Hero" directed and produced by Ron Thunderwood from 9Electric; who has directed music videos for Hollywood Undead, Combi Christ and Stitched up Heart. Check out the music video below.
DIRTY MACHINE recently inked a worldwide deal with Zombie Shark Records and hit the road with Insane Clown Posse. The band's latest album "Discord" was produced by Ben Jovi and Dirty Machine at Left Coast Label Studios. The album was mixed by Arnold "Hedge" Quezada and Darren Davis at Blunoize Studios, and was mastered by Josh Wickman from Dreadcore Productions (KING 810, Within The Ruins).
Dirty Machine has been heralding the nu metal flag since 2012 and pulls major influences from nu metal-era bands such as Korn, Limp Bizkit, Slipknot, Linkin Park, Nonpoint, Mudvayne and Sevendust. The band has built a rabid following, especially in the Kansas City area, due to getting regular airtime on the leading Kansas City rock station 98.9 The Rock and headlining the Jägermeister Stage at the 2016 Kansas City Rockfest. Dirty Machine has shared the stage with P.O.D., Adema, Ghost, Sixx AM, Disturbed, Trivium, Hell Yeah, Alien Ant Farm, Otep, Metalachi, Orgy and many more.
Frontman David Leach states: "We chose to release "Self Made Hero" as our next single, simply because of the current state of the world. Everyone is angry, everyone is divided and "Self Made Hero" is a song that completely contradicts that. It's about paving your own way and writing your own story. Regardless of what the media, politicians or celebrities want you to feel. The middle class has always been kicked around. More now than ever before. This is their anthem."
"Discord" Tracklist:
1. Discord
2. Seeds
3. Self Made Hero
4. Social Recoil
5. Ecusa's Nightmare
6. Built
7. C4
8. Wonka
9. Refuse To Follow (Bonus Track)
10. Victory (Bonus Track)
11. J-Dead (Bonus Track)