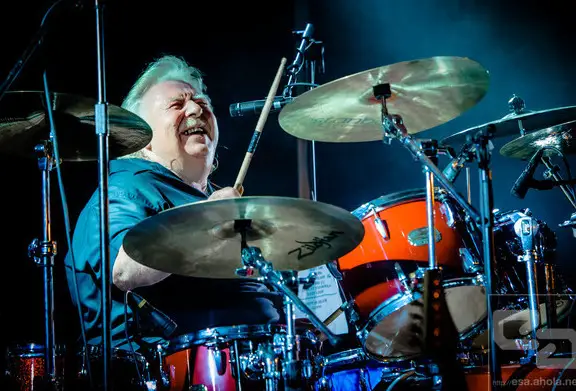 Jimmy Kay from Canada's The Metal Voice spoke to former Ozzy Osbourne, Uriah Heep drummer Lee Kerslake.  Kerslake spoke about his time with Ozzy Osbourne writing and recording the albums Blizzard of Ozz and Diary of a Madman,  his new solo record that will be released in 2019 called Eleventeen his recent induction into The Hall of Heavy Metal History 2019, his illness with prostate and spinal cancer and his race against time to fund and finish his autobiographical documentary. 
Speaking about how he joined Ozzy's band, he said: "I left  Uriah Heep because I had a big argument with the management and I was sick and tired of the band politics so I left and started doing a solo album. I then got a phone call from Ozzy's agent and said would you fancy joining Ozzy Osbourne's band and I said no,  I'm not interested in joining any band unless I am part of the band. 
"I'll join if I am a member because I've had enough arguments and politics in bands over the years.  So Ozzy's people said okay, so I went to the auditions and I told them I will audition you and you will audition me."
"At the audition it was just Randy Rhoads, Bob Daisley, Ozzy and me. I'd never heard of Randy Rhoads before  I never knew of him or any of his playing but I knew Bob Daisley from Widowmaker. In rehearsal we played the song  'I don't know'  and Randy Rhoads jumped and yelled  We got a  drummer!  And the Bob said this guy's  incredible and so I joined.
"Nothing more was discussed  because we had to go in the studio  right away and record an album .  I didn't know  the songs because most of the tracks  were already written and in the end I wrote only a couple of songs. The first album was suppose to be called the Blizzard of Ozz as the name of the band but Sharon changed that and turned it around to Ozzy Osbourne . The album did very well in America."
When asked about his current illness, Lee responded: "It's prostate cancer  but it's moved to rest of my body I have now have bone cancer which is nasty one, so the Doctor gave me about  eight months to live.  But  I've been fighting all the way. 
"Five years ago they gave me four years to live and so that gives you an idea.  Not only have I got bone cancer I've got psoriasis and psoriatic arthritis and two heart murmurs.  As I said to you I'm fighting it and there's no telling what can happen and they might have a new drug come out  and I'll experiment with it if it keeps me alive.
"I survived this long and all this time I have had this terminal cancer but I have defied it because the music kept me fighting."
Entire interview can be viewed below.