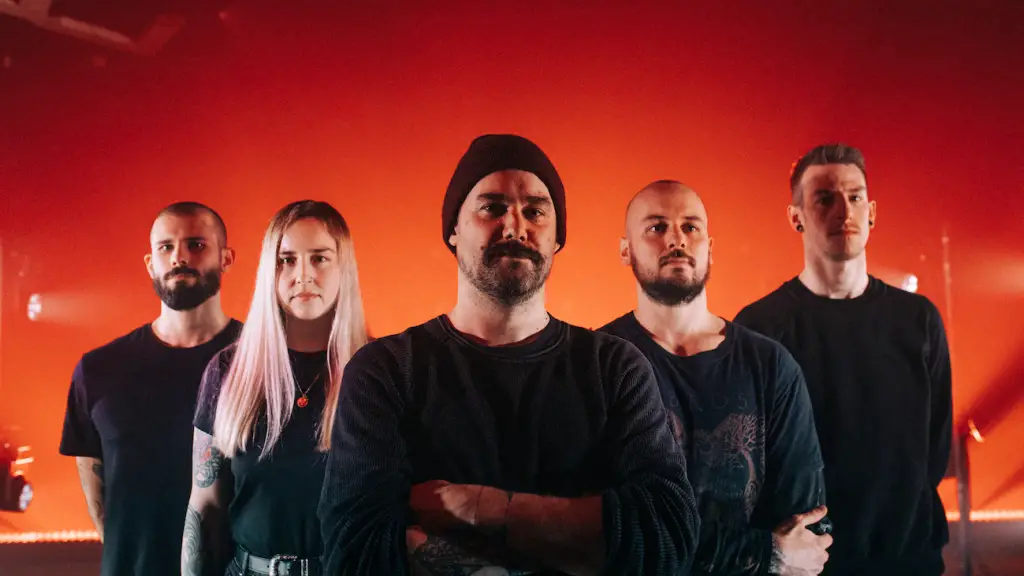 DVNE released their critically acclaimed full-length, Etemen Ænka, on March 19th via Metal Blade Records – which landed on the following worldwide charts:
Germany: #43
UK: #65 (Indie Charts)
USA: #21 (Top New Artist Albums)
USA: #23 (Current Hard Music Albums)
USA: #71 (Current Digital Albums)
USA: #96 (Digital Albums)
USA: #172 (Top Current Albums)
Canada: #41 (Hard Music Albums)
Canada: #84 (Digital Albums)
Canada: #150 (Top Current Albums)
Read our review for Etemen Ænka here.
DVNE are a band of great contrasts, weaving titanic heaviness and intricate gentleness together, complex lyrical ideas with engaging storylines, and this has only been expanded upon and concentrated on second album Etemen Ænka. 
"It's an album that has a narrative musically, and we hope that will encourage the listener to explore the universe we've created around it," guitarist/vocalist Victor Vicart stated. "It is a very dense and layered album which will reward multiple listens, and while this is becoming a recurring aspect of our music, we feel that we went further with it this time. It's also a very polarizing album, emotionally speaking. The heavy sections are, well, very heavy, while the clean sections are much more intricate and delicate – and in a way wouldn't be out of place in a Studio Ghibli anime soundtrack." 
Exploring everything in greater depth in every way, it is a profound step forward from 2017′s Asheran, starting an exciting new chapter in the existence of one of the most thrilling and imaginative metal bands active today. 
"We knew we wanted to include keys and synths in the equation. We wanted to be able to add new textures and new sounds that weren't on our previous releases, and we felt that this was something that will give us more options creatively. Looking back, that was a great decision because we've used synths for everything, with ambient sounds, heavy subs and actual leads, which really added a new dynamic to this album. We've also kept this balance between down-tuned heavy riffs and clean movements, which were already present in 'Asheran', but we really wanted to make sure we could capture more details and subtleties once recorded," explains Vicart. Synths are in fact so present, and at times so unapologetically 80s, that they sound like the soundtrack to a classic sci-fi, which may well surprise fans, the band confident in every step they took musically.
Etemen Ænka is also DVNE's second collaboration with producer Graeme Young in Edinburgh's Chamber Studio, having developed a great working relationship with him on Asheran – "he acts like an extra member of the band and really pushes us to do better takes." This made for a smooth and productive recording process, the challenging part coming before they entered the studio. 
"The composition was challenging because we second guess every riff that gets written. We want to keep things fresh, and we want to keep the energy high too, so the initial creative stage can become intense. Then, because our tracks are pretty big and dense with ideas and movements, we didn't finalize each track structure until we started laying down the drums. But I think it's what made the whole recording process so much fun too, because it allowed us to really think about the different options available without committing to a final structure too early in the process." 
The record also features guest vocals courtesy of Lissa Robertson, who sings on "Omega Severer" and "Asphodel" and contributes spoken word on "Weighing Of The Heart" – her voice adding yet another depth to the heavily layered collection.
Etemen Ænka Track Listing:
1. Enûma Eliš
2. Towers
3. Court of the Matriarch
4. Weighing of the Heart
5. Omega Severer
6. Adræden
7. Sì-XIV
8. Mleccha
9. Asphodel
10. Satuya