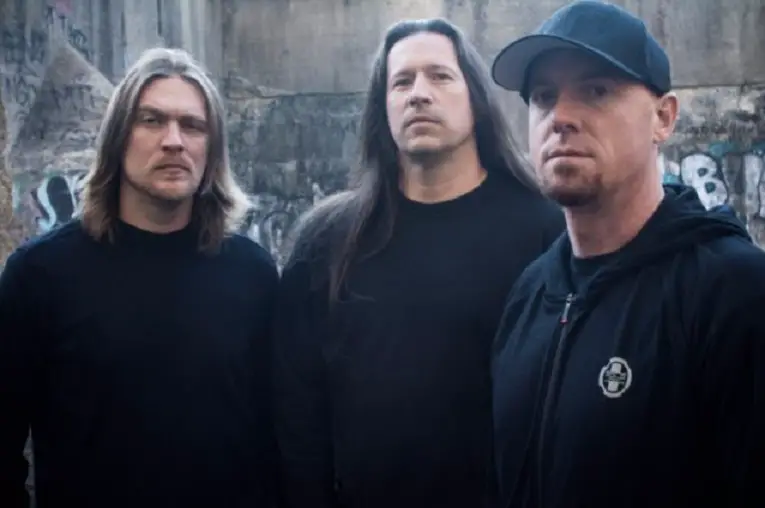 DYING FETUS will release their new album, titled "Wrong One To F*ck With", on June 23 via Relapse Records. The album will contain 10 killer songs.
Guitarist/lead vocalist John Gallagher recently checked in with Capital Chaos TV's Iron Serbian to discuss the new album, death metal as a career, being carjacked and more, from and an undisclosed location deep in the heart of somewhere secret. A couple of excerpts follow:
On a career in death metal: "I'm still buying the bread on sale at Safeway, like anybody else that's watching their budget and stuff like this, I'm not just blowing money hand over fist, you can live conservatively with death metal if you do it right."
On choosing the title "Wrong One To F*ck With" and imagery on the new album: "There is no records stores now, we used to have the bold logo on the cd, so people could walk in and read and not just see a pile of sticks that was the idea of using a bold logo, and now there's no cd's in Walmart. The title and imagery we just said f*ck it, I did want to push it a little further than what came out really, I wanted a really intense, kind of gory cover, like an old Cannibal Corpse theme, I was really pushing for it to be extreme but the label (Relapse Records) wasn't going for it."
Recently the band has launched new "Panic Amongst The Herd" video, animated and directed by Mount Emult. Check out the video here.
"Wrong One To F*ck With" Track Listing:
1. Fixated On Devastation
2. Panic Amongst The Herd
3. Die With Integrity
4. Reveling In The Abyss
5. Seething With Disdain
6. Ideological Subjugation
7. Weaken The Structure
8. Fallacy
9. Unmitigated Detestation
10. Wrong One To F*ck With