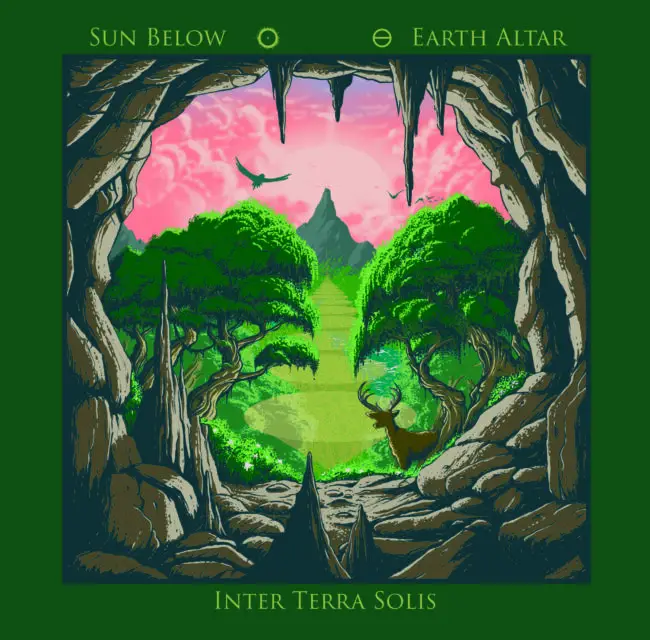 Yeah, split albums are high again. So are Doom Metal and Space/Psychedelic Rock. It's not only that we're having this kind of bands. Truth is that the influences of both features into other bands are growing faster. Just the other day we had a band with strong Doom and Space/Psychedelic Rock influences. There were lots of them in the while. And here we've got "Inter Terra Solis" which is a split album of Earth Altar and Sun Below, both bands dedicated to the kind of tripping music that makes us go to other worlds and beyond. Also, to some extent, both are heavily influenced by the music done in the late 1960's and early 1970's. Each band brings its own pallet of colors into its music which is what allowed me to know which is which. One is more near Doom Metal and the other is much more related to Space/Psychedelic Rock. Interestingly, in between, there are spaces that are filled by both bands. For sure what turns the album even more interesting and appealing.
It took me a while to guess which band I was listening. After a while I noticed that Sun Below, the band that opens up my listening is the one which has closer relations to Black Sabbath especially regarding to the overtones of the guitars and the bass. It's the Black Sabbath from tracks as "Into the Void," "Snowblind" or "Sweet Leaf" the ones where the Sabbath is more doomy than all. Album opener, the instrumental "Red Giant," delivers the fan the approximate view of what a red giant is with the thick and big guitars. The band is the one which explores the space thematic the most and its music reflects it. All tracks are trippy and groovy with a foot on the 1970's Prog Rock from ELP mostly and, to some extent, Yes.
To me here in my play, Earth Altar come next with "The Descent" which is inspired on Dante's infamous journey. The band is a little more down to Earth than the previous, but I aggree this isn't a good comparison as both bands are dedicated to the skies. There is, though, one big difference. Earth Altar's delivers vocals. The track is even more ethereal than the previous band. I'd say Earth Altar are more linked to the spirit of Space/Psychedelic Rock with some dashes of Jazz. One thing that calls the attention is how ther bass is so full of effects to give the ethereal mood the band desires. "The Garden of Earthly Delights" is even with more effects giving the fan the idea of wlaking in a garden of a distant planet. The bass here is not so prominent, but its lines are pretty interesting.
Earth Altar/Sun Below "Inter Terra Solis" will be released on September 08th via Black Throne Productions.
Track Listing:
Sun Below
Red Giant
Methuselah Star (Interlude)
Gravity Tide
Earth Altar
The Descent
The Garden Of Earthly Delights
Interlude
In the Growing Light of Anthelion
Transmutation (The Alchemist's Dream)
Watch "Methuselah Star" and "The Descent" official music videos here:
1830