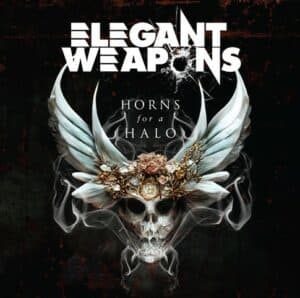 Sometimes by the initial notes of the album opener it's possible to decide whether to review the album or not. That's what happened with Elegant Weapons and their debut album "Horns for a Halo" which would be just another album from an unknown band if one didn't pay attention to its members. The first name that pops up into my dear child of the night eyes is Judas Priest's guitarist Ritchie Faulkner, for the vocals the chosen one was Ronnie Romero, the one who was hand-picked by one Ritchie Blackmore for some Rainbow shows a few years ago, along with bassist Dave Rimmer from Uriah Heep and on drums, Christopher Williams from a band called Accept. Does anyone know it? So, the say the least, Elegant Weapons start up with a five-star team to make any metaller from this sad and lonely and pathetic little jawbreak. Ah, by the way, I guess everyone who's reading this may have wondered that "Horns for a Halo" might have its sound largely inspired on Judas Priest. That would be natural. However, the answer is no. Elegant Weapons managed to built up their own sonancy.
"Horns for a Halo's" sound can't be defined as Old School Heavy Metal as though the Elegant Weapons' members should tell it so. Considering the neat production that enlightens the band's music, what my dear child of the night will find here is a modern version of Heavy Metal as album opener "Dead Man Walking" tells itBy modern I mean the band hasn't stood still at the 1980s as there are many moments when the album sounds more like the 1990s. Romero's voice sometimes takes the songs near to Skid Row as it sounds a bit as Sebastian Bach's. A modern band whose sonancy gets pretty near is The Unit whose albums we've had the honor to review. Some tracks guitar riffing as "Do Or Die" plus the double bass drumming may sound a little as Judas Priest, however there are no guitar duos or twin guitars. One highlight to each track from the album is guitarist Ritchie Faulkner's prone to do everything he's got to fill all the silence up with creative guitar sounds. This makes the band's sound even heavier due to the chaos and confusion he adds. Picking up UFO's crème de la crème "Nights Out" tells a lot about the band's sound choices. UFO are such an iconic band to 1980's metallers that it would be impossible not to pick it up. As any good 1980s metaller "Ghost of You" showcases some Blues influences though its keyboards address to some Aerosmith's tracks from the 1990's. Even though its Blues influence "Ghost of You's" keyboards take it near to some 1990s sonancy. However, it's "Bitter Pill" which does a total trip to the 1990's.
So, Elegant Weapons do honor their name. Their weapons are so elegant and I guess this album won't disappoint the Metal fan in any way.
"Horns for a Halo's" Elegant Weapons will be released on May 26th via Nuclear Blast Records.
Track Listing:
Dead Man Walking
Do Or Die
Blind Leading the Blind
Ghost of You
Bitter Pill
Lights Out
Horns for a Halo
Dirty Pig
White Horse
Downfall Rising
Watch "Do Or Die" official music video here:
1749