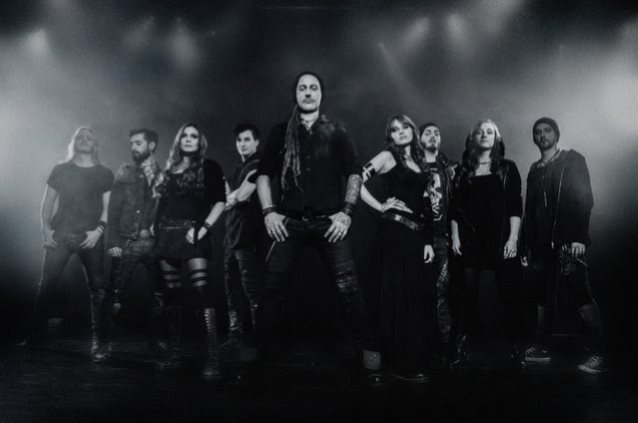 Nuclear Blast is proud to announce that the new album of melodic death/folk metal masters ELUVEITIE, "Evocation II – Pantheon", has entered the charts at the following positions in Germany, Austria and Switzerland:
Switzerland: #2
Germany: #11
Austria: #18
Eluveitie's Jonas Wolf states:
"This is certainly an exciting time for us! We've been getting a lot of lovely response from our fans regarding our new album Evocation ll – Pantheon and summer festivals shows have been really great! So we're super excited to hit the road again to bring you the Celtic pantheon to your doorstep for the second leg of our European Tour! This time we'll be bringing our Swiss friends from Silent Circus along the way so get ready for a real treat!"
Following the strong presale numbers on the first part of Eluveitie´s "Evocation II – The Pantheon tour", the Swiss Folk-Metal powerhouse has now announced the second part of this tour with shows confirmed in Germany, Scandinavia, Baltics and Poland. This time ELUVEITIE will bring along fellow countrymen SILENT CIRCUS.
Second Part Of "Evocation II – The Pantheon tour" Dates With SILENT CIRCUS:
2017-12-05 Saarbrücken (Garage) DE
2017-12-06 Bremen (Tivoli) DE
2017-12-07 Aarhus (Voxhall) DK
2017-12-08 Copenhagen (Pumpehuset) DK
2017-12-09 Gothenburg (Sticky Fingers) SE
2017-12-10 Oslo (John Dee) NO
2017-12-11 Stockholm (Klubben) SE
2017-12-14 Jyväskylä (Lutakko) FI
2017-12-15 Helsinki (Nosturi) FI
2017-12-16 Tallinn (Club Tapper) EE
2017-12-17 Riga (Melna Piektdiena) LV
2017-12-18 Vilnius (Rock River Club) LT
2017-12-20 Cracov (Kwadrat) PL
2017-12-21 Erfurt (HsD) DE
2017-12-22 Regensburg (Airport Obertraubling) DE