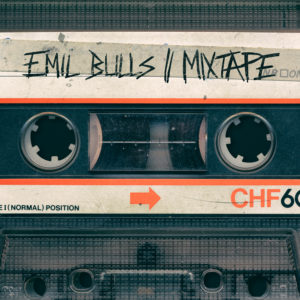 It's funny how we react to art covers and band's names. In fact, they lead, or mislead us to reach a conclusion for the better or for the worst. It's funny to say it that these days because it feels some kind of anachronisme due to all the "prophets" of the media that predicted the end of the album culture. However, as we all can see, the album culture is alive and pretty much well. Of course, no one in a good mental health would say that things are the same as they were until the 1990s. Of course they are not. There were a huge fall on sales and whatever. Well, but that's not really the point. I'm going back to Emil Bulls with "Mixtape."
There are times I get ashamed of not knowing the bands I receive, but then I realise that it's impossible to know any Metal band in this lonely, pathetic and sad world and I feel okay. As a praxis, we always receive a release with the band's info. In general I don't read them because I think they are going to influence me somehow in my opinion when I listen to the songs. I confess I have never heard a thing about Emil Bulls and I was astonished to read that the band has been in action for about twenty years. A very, very long time for a band, especially when you consider the hard days we're living for live music.
"Mixtape," as the name alludes, [To be reall frank I didn't notice at first. Only when I read the release that I noticed] is an album of covers especially from the 1990s pop and some pop rock from the 1980s as Billy Idol's "Rebel Yell" and Starship's "We Built This City" the only two songs I know. Regarding to Starship's "We Built This City" I really like Emil Bulls's version. The others I had no clue. It would be really easy to slam Emil Bulls for the choice of repertoire. I won't for many reasons. The most important is because I feel Emil Bulls really like what they are doing. "Mixtape" is a very honest album. One can feel the honesty and care they passed on it. What Emil Bulls did in was to give an Alternative Metal roupage to those songs. Therefore, I must say that they were really sucessfull in their intent. It takes a lot of personality to record a cover album giving the band's roupage to it. In general, most bands try to honor their favorite bands recording juts like the way the band recorded it. It's also a valid way.
Emil Bulls "Mixtape" was released on May 24th via AFM Records.
Track Listing:
Survivor – Destiny's Child
Tell It to My Heart – Taylor Dayne
Mr. Brightside – The Killers
Grenade – Bruno Mars
River – Eminem feat. Ed Sheeran
Rebel Yell – Billy Idol
Jesus He Knows Me – Genesis
You Should See Me in a Crown – Billie Eilish
Jungle Drum – Emilliana Torrini
The Hills – The Weekend
We Built This City – Starship
Where Is My Mind – Pixies
Every You Every me – Placebo
Kids – MGMT
Watch "Survivor" official video here: