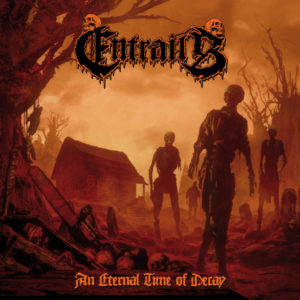 With some bands it's possible to judge the book by the cover. Hold your horses! I don't mean quality. I mean the style by looking at the album cover and by the band's name. By the cover of "Eternal Time of Decay" and by the name of the band Entrails it's possible to get that their thing is Old School Death Metal. And I nailed it. The music in here is the good old Old School Death Metal for the better and for the worst. Well, the worst doesn't fit in here.
"An Eternal Time of Decay" has that overwhelming and heavier than hell intro that leads to a faster than speed of light cadence full of blast beats. "Die to Death" has some Thrash in it via the chorus. The fan will bang at large listening to it. The kind of track that it's the best invitation card to the album. The guitars sound as if they were a steamroller that smash the fan's head. The effect is overwhelming and may let the fan with a little headache due to the frenzy the song inspires. Following track "Fear the End" is a little bit cadenced. But the faster than light drumming gives the hint. There is that feeling of being absorbed by the sonic mass the song creates. A big hail to drummer Arvid Borg who varies and keep the faith flawlessly. Not easy to play that fast and at the same time being capable to vary that much. "The Dead" has that same Thrash Metal inspired chorus. By the way, that kind of choruses are the things I like the most about Thrash Metal. That Hardcore verve is a killer. But it doesn't mean that the album doesn't have its moody moments as in "Dead by Evil" that slows down a little giving the fan that feeling of completness. Again the chorus is fantastis and catchy as it can be. The singalong kind. Remarkable guitar solos as well.
The best thing of "An Eternal Time of Decay" is the relentless spirit that each track has. The speed and the power. The straight ahead tunes and the overwhelming mood. It's the kind of album that leaves the fan breathless. I guess that comes from the Thrash Metal inspiration Entrails have. "Open Casket Feast," for instance, is a fearless piece of nonstop Metal music. There's no time to even think. One-two-three-four and go. That's the spirit.
Entrails "An Eternal Time of Decay" will be released on June 24th via Hammerheart Records.
Track Listing:
An Eternal Time of Decay
Die to Death
Fear the End
The Dead
Slayed to a Pile of Flesh
Open Casket Feast
Dead by Evil
Inverted Graveyard
Autopsy
Reborn in Worms
Possessed
Watch "Die to Death" official video here: