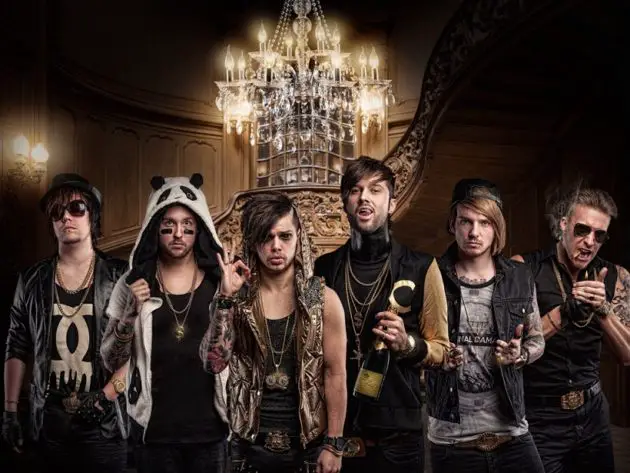 For their new video for the song "MC Thunder", ESKIMO CALLBOY have a very special guest: They went on a little cruise though LA with Hand Of Blood. You can watch the video below.
The video was directed and produced by the band themselves and isn't just featuring a whole marching band, but also Chris 'Fronz' Fronzak from Attila.
Both songs are taken from the upcoming album, "The Scene". Recorded and mixed at ESKIMO CALLBOY's home studio, "The Scene" was then shipped off to Pitchback Studios for mastering with Aljoscha Sieg (Nasty, Any Given Day, We Butter The Bread With Butter…). Like most bands of the modern era, ESKIMO CALLBOY opted to record and mix their own music instead of hiring on a named producer. Their reasoning is simple: nobody is more passionate about music as the members of the band.
The following formats are available of "The Scene":
Ltd. Deluxe CD+DVD Artbook: a luxurious large format book with 60 pages that includes the album, a live DVD and a poster
Ltd. CD Mediabook: a CD seize book with a 44 pages booklet and the album on CD
Standard CD Jewelcase
LP+CD
You can get the following vinyl colours apart from the standard black LP+CD:
Ltd. clear LP+CD
Ltd. white LP+CD
Ltd. transparent red LP+CD
ESKIMO CALLBOY
The Scene Tour 2017:
15.09.17 (J) Nagoya – Rad Hall
16.09.17 (J) Osaka – The Livehouse Soma
17.09.17 (J) Tokyo – Scream Out Party
19.09.17 (J) Tokyo – WildSide Tokyo
05.10.17 (DE) Berlin – Huxleys
06.10.17 (DE) Hamburg – Docks
07.10.17 (DE) Cologne – E-Werk
13.10.17 (DE) Munich – Backstage
14.10.17 (DE) Stuttgart – LKA Longhorn
19.10.17 (AT) Salzburg – Rockhouse
20.10.17 (AT) Vienna – Flex
21.10.17 (DE) Leipzig – Haus Auensee
05.12.17 (RUS) Moscow – Yotaspace
07.12.17 (RUS) Novosibirsk – Otdyh
09.12.17 (RUS) Yekaterinburg – Tele-Club
10.12.17 (RUS) Samara – Zvezda
12.12.17 (RUS) St.Petersburg – ClubZal
13.12.17 (BY) Minsk – Republic
14.12.17 (UA) Kiev – Bingo
Prior to the album release ESKIMO CALLBOY will only play selected shows and festivals.
04.-06.07.17 (CZ) Hradec Králové – Rock For People
20.-23.07.17 (UA) Kiev – Faine Misto Festival
03.-05.08.17 (AT) Lustenau – Szene Open Air
05.08.17 (DE) Horb am Neckar – Minirock Festival
06.08.17 (RUS) Veselovka – Taman Festival
25.08.17 (CH) Gränichen – Open Air Gränichen