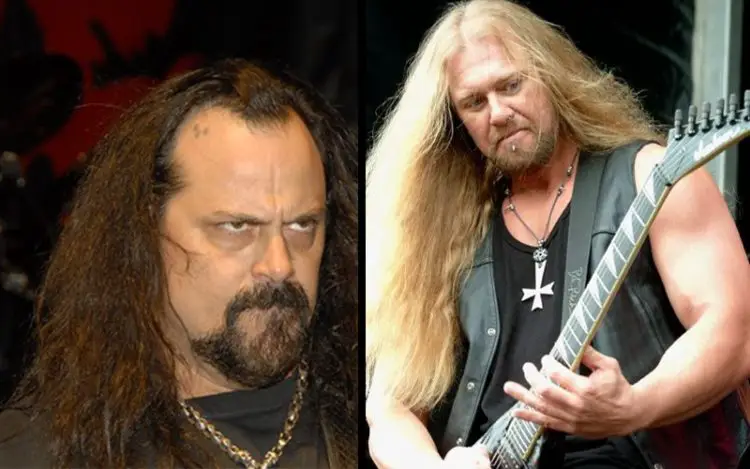 Former DEICIDE guitarist Eric Hoffman has blasted band's frontman Glen Benton in a new since-deleted Facebook post.
He wrote: "I respect my fans, I love my fans, most people can't say that without them I'm nothing without them. After what happened when Glen Benton f*cking took scars royalties for 20 years and all DEICIDE merchandise I will find you and hunt you down like the animal you are.
"I have no label and did my last album for the fans out of my own savings and will do it again with without label. I now pronounce curse on his hair piece Glen Michael Benton you will be history soon and Steve (Asheim, DEICIDE drummer) will hire new singer. Also remember this I am DEICIDE you are a disgusting individual that doesn't care about anyone but himself Glen your AMON, not now, you're not good enough. I drew the logo came up with the name. Unbelievable I am AMON suck it Glen we will meet again."
In 2019 Facebook post, Hoffman challenged Benton to a physical confrontation, writing at the time: "If I DEICIDE/AMON Eric Hoffman stop death metal, it was lack of support. Last AMON album released was out of my own pocket.. I will collect what has been rightfully owned and that scum f*ck Glen and the Turtles, they only care about themselves.
"I will never stop death metal and yes we will kick your a*s Glen any time any place. I will collect my money clearly fraud scum f*ck.
"You say gloves are off your better put some on, the anger in me, your head will spin around like the f*cking exorcist, you know where I live, welcome anytime collecting all my merch for royalties for 20 years and royalties for 13 on scars believe me I will not let you get away with this, we will meet again, anger is building and has it's vengeance. Yes again he was hired I drew the logo found the name. that's why I use his name AMON. f*cking prick."