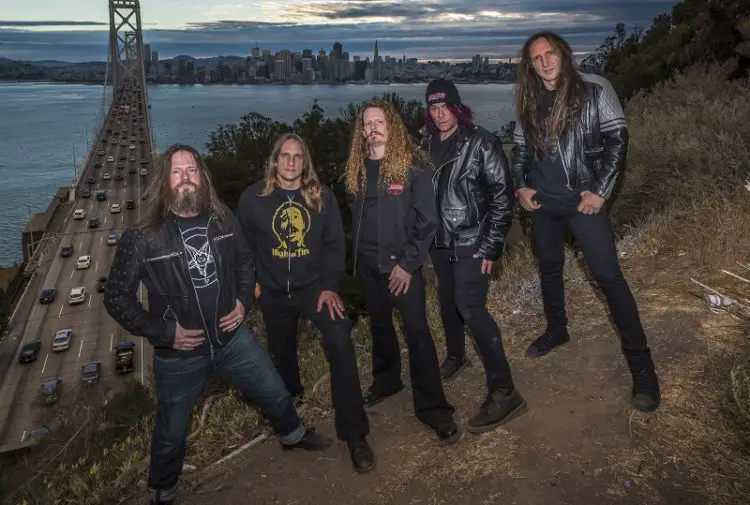 With a bond forged in youth and decades-old friendship, the undisputed masters of thrash metal return with their eleventh studio album, Persona Non Grata due to be released on November 19th via Nuclear Blast Records. Today, the band releases the lyric video for the second single "Clickbait" which can be viewed below.
EXODUS guitarist Gary Holt comments: "Very excited to launch the release of 'Clickbait' from our upcoming record! Crushing and aggressive as hell, it captures the power of the new record perfectly! Getting more excited by the day. November 19th can't come fast enough!"
You can pre-order Persona Non Grata via Amazon here.
Literally translating to an "unwelcome" or "unacceptable" person, Persona Non Grata touches on themes of modern societal disgust and degradation. The band gathered at Tom Hunting's house in the mountains where they produced and recorded Persona Non Grata from three home-built studios. Steve Lagudi was at the helm of engineering while the band enlisted Andy Sneap of Backstage Studios to mix the album. For the third time in the band's history, they returned to Swedish artist Par Olofsson to create the album artwork.
This fall EXODUS will join TESTAMENT and DEATH ANGEL on "The Bay Strikes Back Tour" in the US. The 30 date trek will kick off on October 6th at the Fremont Theater in San Luis Obispo, CA and will make stops in Austin, New York, and Detroit before concluding at The Fox in Oakland on November 27th.
Persona Non Grata track listing:
Persona Non Grata
R.E.M.F.
Slipping Into Madness
Elitist
Prescribing Horror
The Beatings Will Continue (Until Morale Improves)
The Years Of Death And Dying
Clickbait
Cosa Del Pantano
Lunatic-Liar-Lord
The Fires Of Division
Antiseed