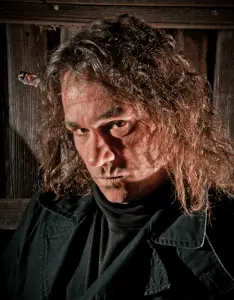 In a brand new interview with AXS.com, returning EXODUS singer Steve "Zetro" Souza, who previously fronted the band from 1986 to 1993 and from 2002 to 2004, was asked how he and the other members of EXODUS got back on solid ground, working together again prior to the recording of the group's new album, "Blood In Blood Out". "I think that everybody, the mentality was, 'This is how we roll. Can we do this again?" he responded. "And I'm like, 'Yeah.' People change over periods of times, and things happen.
"You're in certain situations in your own lives that's really affecting what's going on in your business life. So there's a lot of things that led to that, but I think with all that being said and all the conversations we've had — and again, we had it out. Every one of us had it out: 'This is kind of my thing, and this is your thing.'
"It was great. Kind of like a family member, an uncle that you had a difference with, bought a house together, and stuff went through, and now you don't talk to that uncle. Everyone came together, and it's good now. It's not like you didn't love each other. You were just really angry at each other. And in that anger, we're going to mudsling a little bit. We're gonna make him sound like they'll never talk to that uncle ever again. I think that's where everybody is when they're upset and they're angry and hurt about things. And I think that was well noted on both sides.
"Everybody, again, has really moved past that mentality. Let's just move forward. So far, with the album, I think the album is great, and the shows have been great. So I see nothing but, for me this time, for me anyway, I think it's going to be the best time. For me."
Asked what he would say to anyone who may be skeptical about his long-term commitment to EXODUS this time around, Souza replied: "That was an interesting way between 2002 and 2004. They were ready to have [original EXODUS vocalist] Paul [Baloff] do that. And I was all geared for them to have Paul do that. When [his death] came up [in 2002], it was like, 'Uh-oh. Really? Who else is gonna? I have to. Ugh.' It was that mentality. This mentality is like, 'Yeah! Let's go! Can we not ever go back? How about that? Yeah!' You know, complete different mentality.
"My children were small then. Now my children play in my other band [HATRIOT] with me, and they're 24 and 21 [vs.] 14 and 10. I'm not getting the cops calling my ex-wife: 'Uh, we've got your son.' And it was like, 'Shit.' Okay, well, I could easily go around and be Johnny Rock N' Roll Star, or I could try to make productive members of society. And I chose to do the latter, which wound up good for everybody because I think that 10 years, I needed. It seasoned me, and I'm back, and I'm really ready, and it's great, and I can't wait for this. This is just like a present I can't wait for everybody to open! It's just awesome, so I'm ready to go."
"Blood In Blood Out" sold around 8,800 copies in the United States in its first week of release to debut at position No. 38 on The Billboard 200 chart.
The band's previous CD, "Exhibit B: The Human Condition", opened with around 4,600 units back in May 2010 to land at No. 114.
EXODUS' 2007 effort, "The Atrocity Exhibition: Exhibit A", registered a first-week tally of 3,600 copies.
"Blood In Blood Out" was released in North America on October 14 via Nuclear Blast. The CD art was illustrated by Swedish artist Pär Olofsson, known worldwide for his incredible renderings that have graced the covers of countless heavy metal albums, including EXODUS' "Let There Be Blood".
Source: Blabbermouth