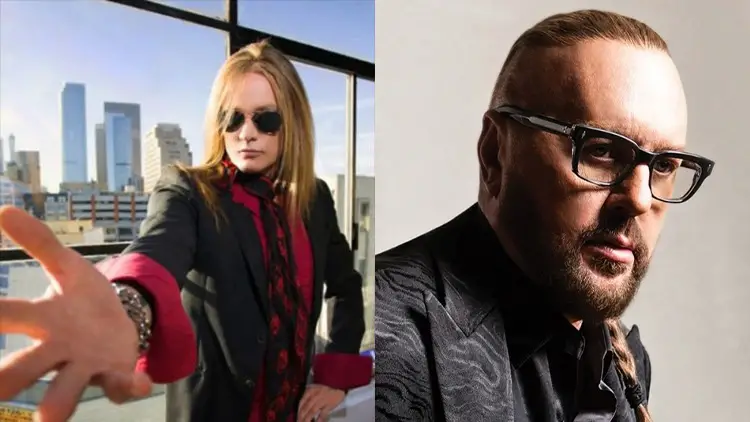 Hit songwriter Desmond Child — who has collaborated with numerous iconic artists and came up with some ultra-popular hit songs, such as KISS' "I Was Made for Lovin' You," BON JOVI's "You Give Love a Bad Name" and "Livin' On a Prayer," Alice Cooper's "Poison," and many more — recently talked to Ultimate Classic Rock about some of his many relationships and anecdotes with famous musicians, including his tumultuous relationship with former SKID ROW singer Sebastian Bach.
"I had kind of a long history with SKID ROW," he said. "Jon Bon Jovi's best friend, [SKID ROW guitarist] Snake [Sabo], started the band. Jon wanted to help his friend, so he got behind the band and helped get them a deal. He helped to put them on tour with BON JOVI and all of that. I was very impressed with Sebastian Bach, his singing, his looks and all of that.
"When I made my album Discipline on Elektra and I was touring around, I was in Toronto and I was on my way to a radio station to do an interview. Sebastian Bach was on the radio station before me. He started slagging BON JOVI. Kind of putting them down. I said to the driver, 'Put the pedal to the metal. Let's get to the radio station. I'm going to kick his a*s.' I was so pissed. When I got there, the elevator opened and I think his on the other side was closing with him going down.
"I got onto the station and it's like, 'What an ungrateful creep.' I was just so pissed off at him. Later on, he wore a t-shirt that was very insulting that said 'AIDS kills f*gs [dead].' There was terrible backlash. You know, I had so many of my friends die of AIDS, including one of my brothers. It was like, 'Wow, what is he? Just anything for attention?'"
He later continued: "Time went on and he had gone to Broadway and appeared in Jekyll and Hyde. I don't know how we hooked up, but I think 10 years had gone by and that's my 10 year rule. I'll forgive somebody after 10 years. The hex is off and I'm willing to forgive and forget and move on. He came to write with me here in Nashville and he was telling me unbelievable crazy stories about his life on Broadway and all of the crazy things he was doing.

"He was very charming," Desmond added. "We made friends and wrote this song that was originally titled 'The Devil's Deja Vu.' He changed the title to 'Falling Into You.' I think 'Devil's Deja Vu' sounds cooler. A title like that seems so light. But whatever. I guess somebody at a record company said, 'You can't say the word devil.' I don't know! [Laughs]"