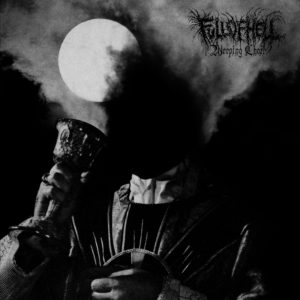 Here we've got a feast of Extreme Metal vocals. In Full of Hell's "Weeping Choir" there are two types of Extreme Metal vocalists; the gritty and the grittier. They do a sick and weird duet throughout "Weeping Choir" making it a very interesting experience to hardcore fans in fond of something fresh, but even sicko. To be extreme is to dare all the boundaries still left on Extreme Metal music and push them forward. Full of Hell do that using the aforementioned sick duet interweaven with harsher guitars, extreme speed drumming, noisy bass lines and some sound effects that make the tracks even more unexpected and mad. "Rainbow Coil," for instance is a track with only the extreme velocity drumming which sounds like a machine gun or something else and some weird noises and guitar feedbacks. Really sick thing.
This album mixes with great success elements of all Extreme Music. There are tracks that emulates grindcore as "Aria of Jeweled Tears" and also tracks which go softer – well, anything after a grindcore track is softer. Full of Hell deal very well with all those features. The band has an extreme careful and skilful ability of joining them all together naturally. It is awesome to hear a track as "Downward" paying attention to all the changes in vocals to all the changes in mood that there is in it. And soon after all the carnage done, there comes a track as "Armory of Onsidian Glass" with its Funeral Doom mood showing all the despair and anguish wish Full of Hell to pass on. "Armory of Onsidian Glass" really gives the creeps. As I said a feast of Extreme Metal vocals.
Full of Hell are extremely well-succeeded in mixing electronic sonic effects in a natural way into Extreme Metal music. The way they did it, fans get really envolved with their music. Too much eletronics make fans ran away as we all know. There is a very slight line to cross between what is accepted and Full of Hell did know how to cross it.
Full of Hell "Weeping Choir" was released on May 17th via Relapse Records.
Track Listing:
Burning Myrrh
Haunted Arches
Thundering Hammers
Rainbow Coil
Aria of Jeweled Tears
Downward
Armory of Onsidian Glass
Silmaril
Angels Gather Here
Ygramul the Mary
Cellar of Doors
Watch "Burning Myrrh" official video here: