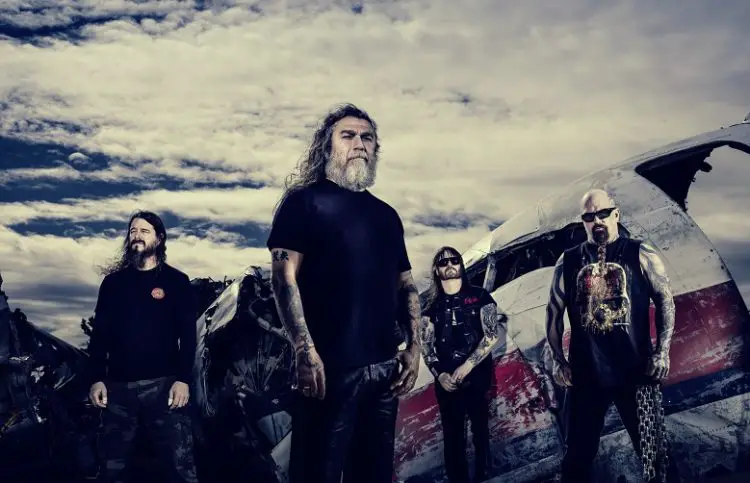 As previously reported, earlier this month while congratulating MACHINE HEAD on their 30th anniversary as a band, guitarist Kerry King admitted that he regrets that SLAYER retired.
"Apparently, it's [been] 30 years, which is quite an achievement. Not a lot of bands get there. We did, and then we quit too early," King said.
"F*ck us, I know," he added "F*ck me. I hate f*cking not playing."
Holt, who spent almost nine years touring with SLAYER, was asked about Kerry's comment in a new interview with Metal Hammer magazine.
"I'd have to agree," Holt said. "We were still playing at the top of our game, we were totally killing it. The band had a lot of years left in it, but I guess when it's time, it's time. When you decide to walk away from something, walk away. I can't tell anybody they made the wrong decision. Better to go out on top than go out unable to play your own songs, and this sh*t isn't easy. Playing 'Angel Of Death' at 70 years old would be f*cking hard. But it was time for me to come back, let's put it that way. I was really missing my first family."
SLAYER played its final show of their farewell tour in November 2019 at the Forum in Los Angeles. One day later, Kerry King's wife, Ayesha King, said that there is "not a chance in hell" that the thrash metal icons will reunite for more shows.
In a recent interview with Metal Hammer, King discussed his new music he's working on in the two years since SLAYER completed its farewell tour.
"I had picks that I threw out at those shows — 'The Final Campaign' — at the end of the show. And in every city, I threw out two that said, 'Reborn in 2020,' because that was my plan — I planned on touring in 2020," King said. "Then the pandemic came up and we were into 2021, because I want everybody to get the bumps out of the road before I go out.
"Here we are at the end of 2021 and I'm looking at the end of 2022 now. And we'll see what happens next year because it's evolving. I don't want to go out and feel stuff out, I want to go out and have a good time. I'm not being selfish, I don't mean it like that. I mean that whatever the new rules are, I want them to be smooth before I go out."
When asked as for why he hasn't said more about his future plans yet, King responded: "I'm dragging my feet on letting the world know what I'm doing because there's no rush. I have a tour that I'm considering doing, but I'm not going to announce a band, I'm not going to announce a record, I'm not going to announce anything. But you will see me in the future — it will be f*cking good."
In a previous interview with Australia's Riff Crew, SLAYER drummer Paul Bostaph has confirmed to be working on a new musical project with Kerry King.
Kerry King's post-SLAYER project has been rumored to feature SLAYER drummer Paul Bostaph, SLAYER/EXODUS guitarist Gary Holt and former PANTERA frontman Philip Anselmo.