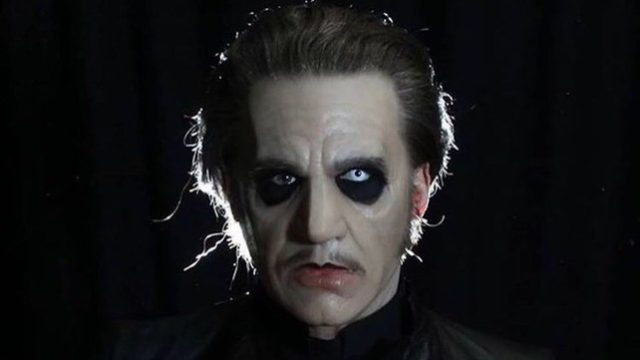 In an interview with Revolver Magazine, GHOST mastermind Tobias Forge talked about the musical direction he wants to pursue with the band's next album.
The musician pointed out he is aiming to "make a different record" from the latest GHOST effort, 2018 Prequelle, which he described as "a little ballad heavy." Tobias added:
"I want it to feel different. If I dare to say 'heavier,' people think that it's going to be Mercyful Fate all the way … but I definitely have a darker, heavier record in mind."
Hefurther explained:
"I have always pushed myself to write the songs that we don't have instead of going back – it maybe would've been a smart move to just try to replicate [Ghost's 2010 debut album] 'Opus [Eponymous].' I can regurgitate. I grew up with metal. It's in my DNA, so I can formulate death-metal lyrics easily. But I try not to repeat myself on that.

"I like to make the Metallica comparison – where 'Kill 'Em All' is a little bit more crude, on 'Ride the Lightning' they started writing about more real things. It had more depth.

"I'm not going change everything and just talk about politics, but I believe that if you have people's attention, you have a responsibility to weigh with your words a little. Sometimes that is hard. I find that harder than the musical challenges."
GHOST's latest album, Prequelle, was released on 1 June 2018. The album marked the band's strongest selling debut to date, landing at number 3 on the Billboard 200, selling 66,000 copies in its first week, with 61,000 of those being "traditional" album sales.