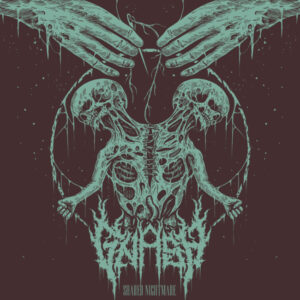 Classic Funeral Doom Metal at its best. This "Shared Nightmares" EP by Gnash reunites all the most characteristic traits of Doom Metal I've ever heard. Well, not that I understand a lot about Doom Metal but from what I've heard here wriitng reviews it's pretty outstanding. From where I'm standing it's Funeral Doom to the harsh roared vocals which spit all the blood and entrails stuck in the inners and insides. Most of all, all the despair and the solitariness wrapped in a state of emptyness and nothingness. Here the absence of light makes the album shines to all that are initiated.
This "Shared Nightmares" EP lacks only one feature that would make more Funeral Doom that is the long tracks with more than teb minutes each. In fact, the average is only three minutes. A highlight to the distorted bass lines that lead "Broken Mirror Image" a track full of sorrow and lots of pain. The thick guitar is here only to stress the lead the bass gives. Pretty uncanny in Metal music but it's the pure truth. To imagine a song being led by the bass is rather uncanny, to imagine it written by the bass is another completely different thing. To think this way is rather awsome and mindblowing. By the way, "The Darker Half" the album opener to the seven gates of hell has also an outstanding bass line that welcomes my child of the night to the horrors and sacrifices "Shared Nightmares" EP offers. Josh Richter's vocals make a hell of a difference to Gnash's music.
The four tracks in here are appetizers for a future full-length with more intriguin bass lines. Fun fact about is "Shared Nightmares" EP that there are no guitar solos. I have to point this out because as my child of the night knows guitar solos in Metal music are the needed spice. I just can't imagine Metal music without guitar solos. On the other hand, Gnash make it work pretty well, though my thoughts of there is something something missing. Nobody is perfect.
Gnash "Shared Nightmares" will be released on September 22nd.
Track Listing:
The Darker Half
Broken Mirror Image
The Amniotic Lake
Sacrificial Bastard
Watch "The Darker Half" official music video here: