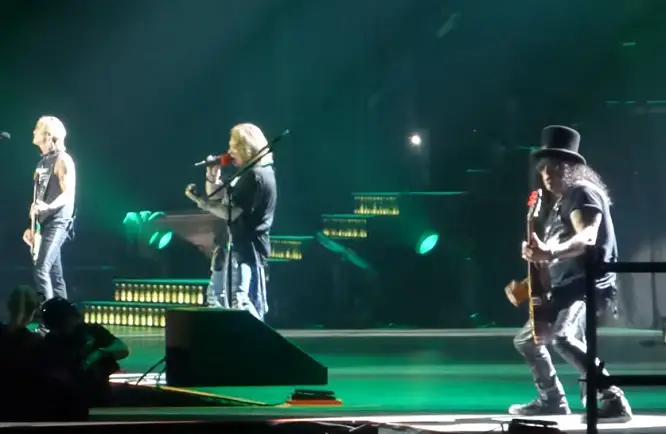 GUNS N' ROSES kicked off its "Not In This Lifetime" tour last night at Detroit, Michigan's Ford Field in front of 41,000 fans. Fan-filmed video footage can be seen below.
For this show, Axl was no longer tied up to the throne seated on ever since breaking his foot during a surprise GUNS club show in April 1 in Los Angeles.
The band's setlist was as follows:
01. It's So Easy
02. Mr. Brownstone
03. Chinese Democracy
04. Welcome To The Jungle
05. Double Talkin' Jive
06. Estranged
07. Live And Let Die
08. Rocket Queen
09. You Could Be Mine
10. Raw Power
11. This I Love
12. Civil War
13. Coma
14. Speak Softly Love
15. Sweet Child O' Mine
16. Better
17. Out Ta Get Me
18. Wish You Were Here
19. November Rain
20. Knockin' On Heaven's Door
21. Nightrain
Encore:
22. Don't Cry
23. The Seeker
24. Paradise City
The tour features three members of the classic GN'R lineup — Axl Rose, bassist Duff McKagan and Slash — backed by drummer Frank Ferrer, guitarist Richard Fortus, keyboardist Dizzy Reed and new second keyboardist Melissa Reese.