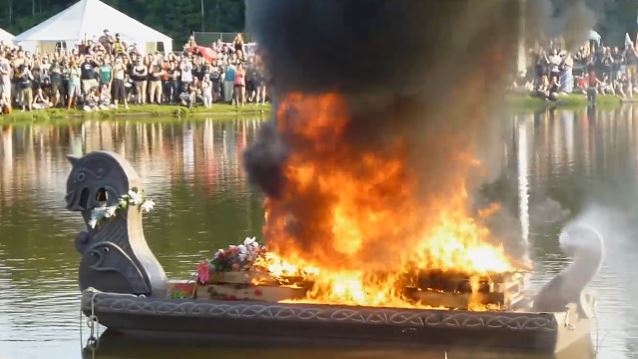 The life of Dave Brockie, lead singer and mastermind of Richmond, Virginia-based art/shock-rock metal band GWAR, was celebrated with a special memorial event last night (Friday, August 15) at Hadad's Lake in the group's hometown. Fans, friends — including former DEAD KENNEDYS frontman Jello Biafra and LAMB OF GOD's Randy Blythe — and family members had the opportunity to pay their respects, as they drunkenly toasted with a GWAR Beer in one hand, while wearing the commemorative Dave Brockie Fund vomit stained t-shirt as Oderus Urungus (Brockie's stage name) was set ablaze in a Viking Funeral Pyre on the lake.
After the event, Blythe posted a touching tribute to Brockie on his Instagram, writing: "Tonight we sent Oderus home in a fitting manner at the public memorial for Dave Brockie. A blazing Viking ship with Oderus laid out in it, the cuttlefish pointing proudly straight up.
"Watching my friend Dave's costume go up in flames in front of a thousand fans was so much more intense for me than the private memorial for friends and family we had April Fool's Day.
"I spoke at both of them, as GWAR asked me to, and both times as I spoke I was sad. But watching his alter ego burn tore me up way more than the first memorial, maybe because there was Dave, the human who was my friend who just 'left us' — I never saw his body — and then there was Oderus, who was something entirely else. To watch his stage gear burn was like watching part of my life literally go up in flames.
"I was sobbing my eyes out as I took this photo [see below]. It was just a super-intense moment. Very beautiful, but overwhelming.
"Fly free, Oderus — you are missed."
Check out video footage of yesterday's event below.
This year's edition of GWAR's annual GWAR-B-Q festival at Hadad's Lake — which is being held on Saturday, August 16 — features GWAR, BODY COUNT (featuring rapper and acot Ice-T), HATEBREED, MISFITS, GOATWHORE and several others.
Brockie died in March of an accidental h*roin overdose. He was found unresponsive by his roommate in his North Richmond home. Responding police investigators found evidence of h*roin use, but the cause of death wasn't finalized until toxicology tests were completed. He was 50 years old.
Brockie is the second member of GWAR to die within the past three years. Guitarist Cory Smoot, who played the character Flattus Maximus, died of a heart attack on the band's tour bus in November 2011 at the age of 34.
Brockie was the last remaining original member of GWAR, which was founded 30 years ago.
The satirical metal band earned a following for its macabre, over-the-top costumes, offensive lyrics and graphic, gore-soaked shows, in which the band members performed as the descendants of alien warriors who arrived on Earth to enslave and slaughter the human race.
GWAR released its 13th album, "Battle Maximus", last year.
Source: Blabbermouth