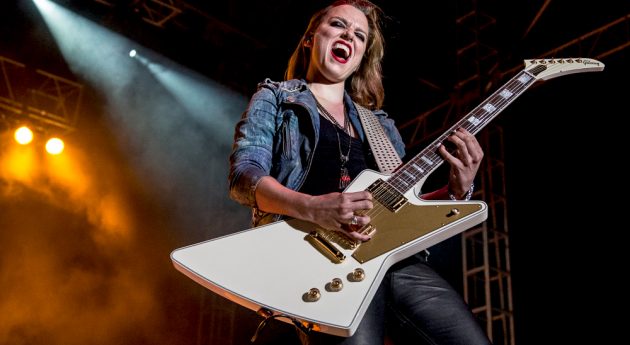 HALESTORM frontwoman Lzzy Hale has paid tribute to Chester Bennington, saying that she is "sorry" that the LINKIN PARK singer "felt like [he] had to leave this way."
LINKIN PARK frontman Chester Bennington has committed suicide by hanging.
Law enforcement sources tell the site the singer hanged himself at a private residence in Palos Verdes Estates in Los Angeles county. His body was discovered Thursday just before 9 a.m.
Chester was married with 6 children from 2 wives. The singer struggled with drugs and alcohol for years. He had said in the past he had considered committing suicide because he had been abused as a child by an older male.
One of Bennington's bandmates showed up at the singer's Palos Verdes Estates home shortly after police arrived, according to the site. He said he was supposed to be driving Chester to the photo shoot and was "absolutely shocked."
Lzzy Hale addressed Chester Bennington's death in an Instagram post. She wrote:
"RIP Chester. We lost another voice of a generation today. I'd like to remind everyone that follows me that you are never alone. Life is f–king hard and every single one of us has beasts inside of us that we battle daily. And as humans… do your part. Stop with the cyber bullying, and hating people for stupid reasons. How about instead leave up lifting messages of hope and love and rock n roll. Just one word of kindness can change someone's life…I've seen it in my line of work…you are powerful enough to help someone or hurt someone…so choose to spread positivity. Chester, you will be missed, and I'm sorry that you felt like you had to leave this way. But all of the people that you've healed through your music, we Thank you for your time here and your music will live on through us!"