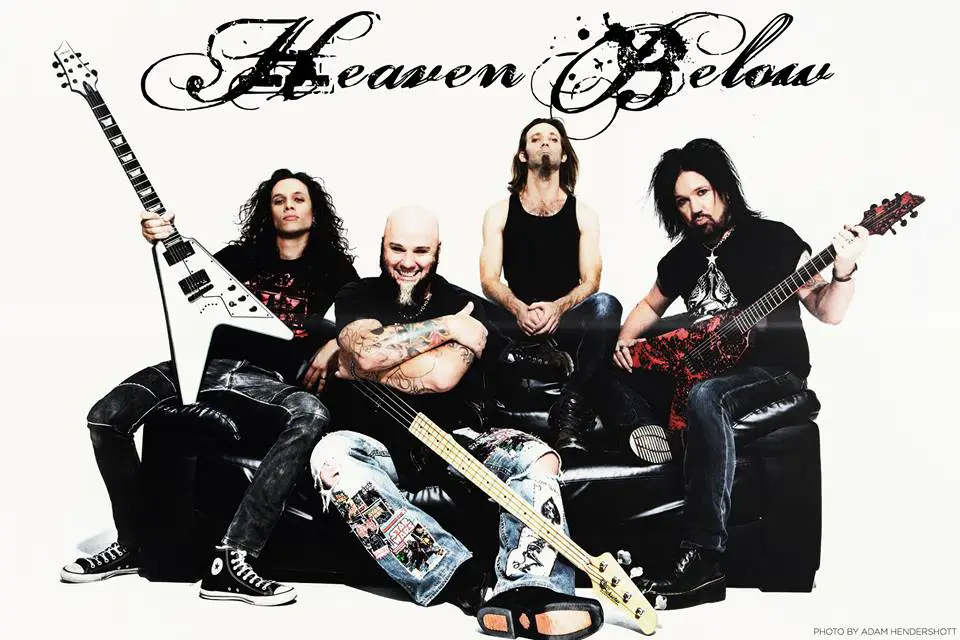 HEAVEN BELOW, the current project of Union Underground/Lita Ford guitarist PATRICK KENNISON has signed with EMP LABEL GROUP, the label of Megadeth bassist David Ellefson, distributed by eOne Entertainment, who will release the band's upcoming LP "GOOD MORNING APOCALYPSE" on October 14th.
"GOOD MORNING APOCALYPSE", a mind-blowing masterpiece of an apocalyptic concept album, features guest appearances from LITA FORD, JASON MCMASTER (DANGEROUS TOYS, BROKEN TEETH), UDO DIRKSCHNEIDER (ACCEPT), AND KOBRA PAIGE OF KOBRA AND THE LOTUS.
The band has released an album sampler, featuring clips from all 12 songs from "GOOD MORNING APOCALYPSE". You can hear it below.
Fronted by Kennison, who also handles guitar duties, HEAVEN BELOW has been breaking ground in LA for several years with their brand of Progressive Hard Rock/Metal, self-releasing 3 LPs and a series of EPS, spawning several active rock hits, including "When Daylight Dies", and the band's monstrous take on Rush's "Subdivisions", featuring a guest appearance from the one and only William Shatner.
Kennison says: "Nearly 4 years ago the band and I decided that we'd like to start working on a concept record. We knew how ambitious it sounded to even consider that, but once several legendary artists offered to help make it become a reality, we knew we had something."
He continues: "With over 30 songs written, we narrowed it down to the top 12. Udo Dirkschneider, Lita Ford, Jason McMaster, and Kobra Paige all stepped up to lend their amazing talents. We feel this album is a powerful culmination of old school metal meets current fresh metal. This kind of undertaking only comes along once in a lifetime, and we think we captured the moment on "Good Morning Apocalypse". The timing was perfect with EMP's outside of the box approach to new music."
EMP operations and A&R director Thom Hazaert says: "Me and Patrick go back a long time, and I was, and still am, a huge fan of The Union Underground. He is an extremely talented player (and vocalist), and Heaven Below was doing some amazing stuff, so it was a really great fit. I got the record from Patrick, sent it over to David, and we were both blown away. We are definitely blessed to continually find new amazing Rock and Metal artists who are pushing the envelope the way Heaven Below is."
TRACKLIST:
01. Nefarious Angels (feat. Jason McMaster)
02. Renegade Protest Movement
03. Follow Me Under 04. Devilina And The Damage Done (feat. Kobra Paige)
05. Nightfall Comes To Life
06. Killing The Deadman
07. Running Under Satan's Hand (feat. Lita Ford)
08. Death Battalion
09. Bonded By Blood
10. Black Sunrise/ War Of The Gods (feat. Udo Dirkschneider)
11. Among The Wolves/Worldwide Suicide
12. I Would Do It All Again/Burials At Sunset
[soundcloud url="https://api.soundcloud.com/tracks/277923116″ params="auto_play=false&hide_related=false&show_comments=true&show_user=true&show_reposts=false&visual=true" width="100%" height="280″ iframe="true" /]