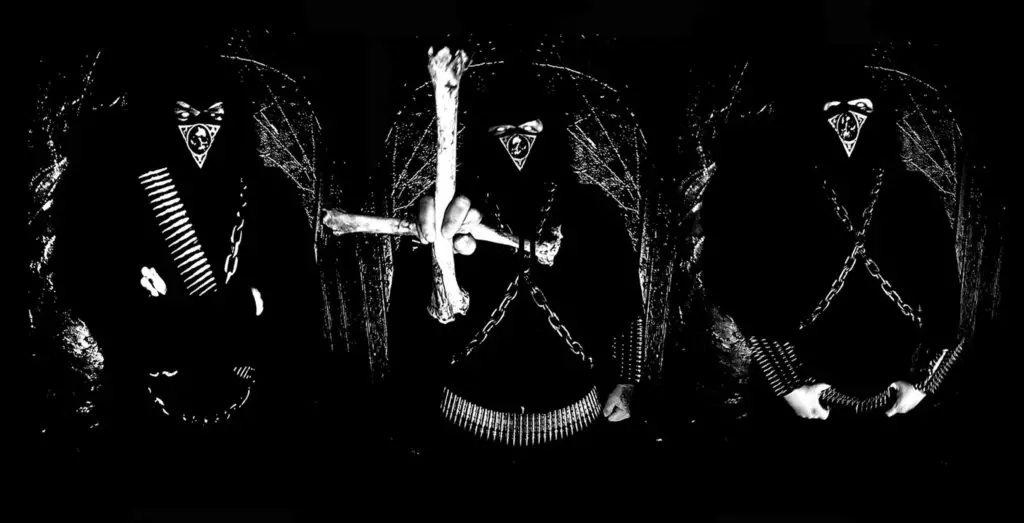 Helter Skelter Productions (distributed & marketed by Regain Records) announces June 30th as the international release date for HELLFIRE DEATHCULT's highly anticipated third album, "Al Nombre de la Muerte", on CD and cassette tape formats. The vinyl LP version will be released on November 25th.
Hear for yourself with the new track "Beneath the Black Moons Incantation" below. Also hear the additional tracks "Grand Invocation ov Black Death" and "Consumed by the Eternal Darkness ov Death" HERE, where all formats can be preordered.
For nearly a decade now, Chicago's Hellfire Deathcult have doggedly pursued an uncompromising and fiercely focused vision of blackgrind. From their debut EP, 2014's Ave Mors – which Helter Skelter reissued in late 2018 – on to two full-lengths as well as prolific assaults on the live front, this power-trio have proven dependable and DEADLY. Theirs is a world-eating sound, and hypnotically so, whose bulldozing physicality recalls classic Archgoat, Goatpenis, Black Witchery, and Morbosidad but with a punishing persona all their own.
Nearly four years on from their last full-length, Hellfire Deathcult return to an ever-cursed world with their third album, Al Nombre de la Muerte. Immediately, the gutted blackgrind is recognizably Hellfire Deathcult – primitive, primordial, powerful – and is encased in a sweltering production that skillfully highlights all the nuance and nous of this uncompromising, unmerciful sound. However, scratch deeper below the barbed-wire surface and one will find that they've subtly perfected the art of catchiness across Al Nombre de la Muerte: anchored by gnawing & clawing riffs with a nuclear f**kton of bottom end, Hellfire Deathcult almost effortlessly dole out hummable hymns – but of course, ones that authentically breathe the blackest essence of this arcane art, all through a grimy gasmask. So, while their aesthetic foundation remains firm, with this new record Hellfire Deathcult challenges to be included in that (black)list of (un)hallowed names.
Al Nombre De La Muerte Tracklisting:
1. Grand Invocation Ov Black Death
2. Consumed By The Eternal Darkness Ov Death
3. Devoted To The Order Ov The Black Light
4. Within The Depths Ov The Godless Void
5. Divinity's Damnation
6. Blessed By The Ritual Fires
7. Goddess Ov The Abyss
8. Beneath The Black Moons Incantation
9. Ritualistic Sacrifice Ov Sacred Blood
10. Black Plague Apocalypse
11. As Above, So Below…Reign Ov Luciferian Light