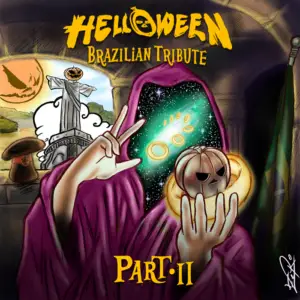 "Helloween Brazilian Tribute – Part II" is the second tribute to one of the greatest bands in Metal: Helloween. It was in 2014 that Helloween Brasil had the opportunity to prepare a tribute album to honor the Helloween's 30th anniversary with brazilian bands. Now it's the time to do it again with more bands and more people to prep a new tribute.
"30 Years Of Happiness" was released digitally for free download via Helloween Brasil page. More than 150 thousands downloads were made via the official links and the album had a great fuzz among Helloween fans and the media. The tribute is even on Helloween's official biography.
"Helloween Brazilian Tribute – Part II" art was made by Rafael Henri reminding many other Helloween's cover arts with a brazilian touch.
Click
here
 (Click in the yellow 
Download gratuito
banner) to get your download. Don't bother everything is in Portuguese, but great music has no language boundaries.