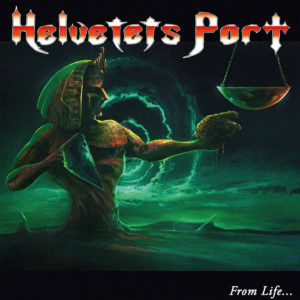 Generally I don't read the press release sent to me with the EPK. I do that because the reading could influence my writing, got it? I explain, if I read the release I'll have an idea about the band, though this idea could be misled so far. It is a risk. Releases are written to give you a colorful idea of the band, sometimes they are not that acurate. For instance, I rarely like the way bands are labeled by the press. It's not difficult to be biased because the intent is to sell the band. Anyway, I'd rather reach my own conclusions.
Well, from where I'm standing, Helvetets Port with "From Life to Death" are difficult to label. I mean, Helvetets Port are a Heavy Metal, but the touches of Power and Speed are too big. "From Life to Death" is an album full of melodic and anthemic songs with resourceful and full of feelings guitar solos. The fourteen tracks of "From Life to Death" – yes, fourteen – are full of those songs that make you sing along and mumble all guitar solos. So, it' s an album to feel. An album of heart and soul. The funny thing is that Helvetets Port sound very similiar to some unknown 1980s bands that were reviwed here as Jinx among others that memory doesn't serve me right now. There are lots of twin guitars, melodic solos, whammy bars among others. Helvetets Port learned very well with the masters and added their own contribution. "From Life to Death" is a great album to listen to.
Helvetets Port "From Life to Death" was released on August 23rd via High Roller Records.
Track Listing:
Stan Brinner
The Invincible
Röda Nejlikan
Ruled with an Iron Hand
Hård Mot De Hårda
Man-at-Arms
White Diamond
Hero of an Age
Die to Stay Alive
From Life to Death
Orions Bälte
Castle Walls, City Gates
Thunder Ace
Night of the Innocent
Watch "Ruled with an Iron Hand" official video here: