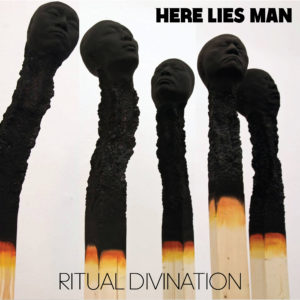 When I say we receive all kinds of weird stuff here one may not believe me, but it's the frigging truth. And when I say weird I don't mean insane as many efforts we get here. I mean uncanny combinations and freaking awesome rhythms and ideas. From the start Here Lies Man with "Ritual Divination" is uncanny by the name of the band and the album and, of course, from the album cover. Very interesting indeed. However, I guess the band name is stranger than the album name. The combination of late 1960s and early 1970s music as Heavy Rock, some funk, and some Blues is what the fan gets here. There is also a pungent taste of Black Sabbath in some songs as they use the same heavy fuzzy pedal and some features of the band. But the features are only a suggestion. Therefore, take a look at "Collector Of Vanities" whose bite of the Sabbath feature is greater than the others. The heavy guitar riffing from "The Fates Have Won" are also very Sabbtahish peculiar. Great references, my dear fan. Great references. A fun fact of "Ritual Divination" is that there are no vocals properly said. The album is full of choruses and vocal effects from head to toe which give it a weirder sonancy after all things. Guitar riffs are also strong and heavy as hell sustained by the aforementioned fuzzy pedal effect. As I said many times, this pedal is just awesome. I wish some Metal bands used them once in a while. It creates such a killer effect.
The moods and atmospheres created in "Ritual Divination" are just divine – or would they be profane? I don't know, but they are really fantastic. "Disappointed" is one of the tracks that shows it best with great exotic and ethereal moods. When I said Blues, I meant that guitar riffs are constructed on the Blues pentatonic scales as many bands used to do back then. They give a very heavy and plain effect to the guitar phrases which by the way is just something I love. Here Lies Man use all the references from the past and build up an album that is in a way very modern. Some tracks as "Out Goes the Night" and "Cutting Through the Tether" use some modern effects that may take them to some fans, but, in fact, it turns out that the tracks get more peculiar indeed. A highlight to the fantastic drumming in "Cutting Through the Tether."
Here Lies Man "Ritual Divination" will be released on January 22nd via RidingEasy.
Track Listing:
In These Dreams
I Told You (You Shall Die)
Underland
What You See
Can't Kill It
Run Away Children
Wander
Night Comes
Come Inside
Collector of Vanities
Disappointed
You Would Not See from Heaven
The Fates Have Won
Out Goes the Night
Cutting Through the Tether
Watch "I Told You (You Shall Die)" official video here: