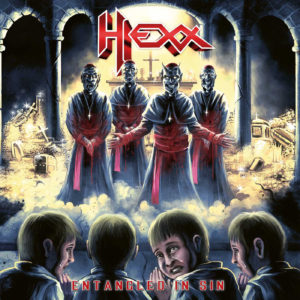 All right! Here we are back to the old ways. I've been away for some time because I had what people call author's or writer's block. If it happens with all the good writers all over the world, the fan might wonder what happens to the poor ones like me. It's a sick thing, you sit in front of your computer to write and you simply can't.
Ok, enough with the whinning and let's go the subject of today's review which is Hexx, a Bay Area Metal legend. Three yeras ago we had the honour to have reviewed their fourth effort "Wrath of the Reaper," an album that made me regret not having met them in the good old days. Well, in this "Entangled in Sin" Hexx keep the same grip and power from the previous effort. It means that this album gives the fan no time to even breath. The band didn't forget the finesse of the guitars that I highlighted on the previous review. A hint, go straight ahead to "Wise to the Ways World" and check that guitar finesse out. The fast and hard drumming is here as well with the well-knownd, and cherished, acid and graspy vocals. By the way, I know life is not fair to bassists, but I have to give me hail to Don Wood's bass lines which contributes a lot to make Hexx's music more powerful and cohesive.
"Entangled in Sin" begins with "Watching Me Burn" which is a right-to-the-face 1980s inspired tune. Hexx are of the bands that really know how to mix in their sonancy the power of Thrash, the speed of Speed Metal, and the finesse of NWOBHM making their efforts something really worth it. Add to that a ability to write choruses that are at the same time catchy and powerful as in "Vultures Gather Round" and "Beautiful Lies" – by the way, what a nice song title. A theme that many bands should remember in their lyrics with the words comfortable or comfy.
"Entangled in Sin" is an album that makes the fan extremely happy due to the quality of the songs in it. However, there are moments in it that reminds a lot the great Metal Church as in tracks as "Strive the Grave," but as I always say, that is no demerit to Hexx. It's only that people like me have heard so many songs and albums that is almost impossible not to bridge them with each other. So sorry about that…
Hexx "Entangled in Sin" was released on September 25th via High Roller Records.
Track Listing:
Watching Me Burn

Entangled in Sin

Vultures Gather Round

Beautiful Lies

Power Mad

Internal Enemy

Strive the Grave

Touch of the Creature

Wise to the Ways World

Over But the Bleeding

Signal 30 I-5 (CD Bonustrack)*

Night Of Pain (Bonustrack)**

Terror (Bonustrack)**
* New song / CD-Bonustrack

** Re-recorded versions of 2 songs from the band's 1984 debut »No Escape« / Bonustracks / Taken from the new album's advance single
Watch "Vultures Gather Round" official music video:
968