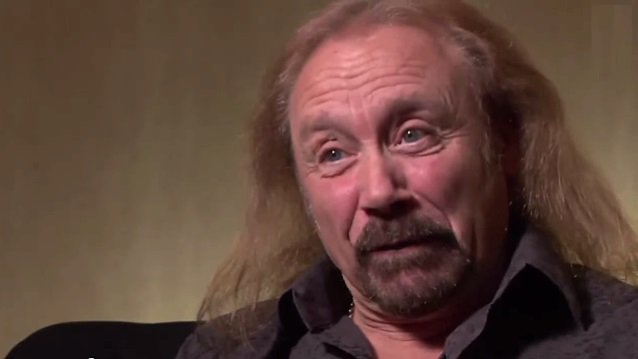 During a press conference at this year's Hellfest, which was held June 22-24 in Clisson, France, JUDAS PRIEST bassist Ian Hill was asked for his thoughts on K.K. Downing's comments and whether PRIEST considered approaching K.K. to return to the band following Tipton's decision to step aside from the stage.
"I didn't know, really, where he was coming from with that comment," Hill said (see video below). "I think he just played a bit of mischief, to be honest. I mean, Ken's place in the band has already been taken; he's sitting right there [referring to current PRIEST guitarist Richie Faulkner, who was also taking part in the press conference, alongside drummer Scott Travis]. It's also two albums down the road since 'Nostradamus', which is the last one he played on, and is he gonna be prepared to play music from the new album, which he probably would not. And on top of that, he's gonna have to learn Glenn's parts too. So it's all reasons why we didn't [ask him to return]. Apart from that, he's been retired for nearly eight years. He hasn't since set foot on stage as far as I know, so he's hardly at the peak of his game at the moment. So, yeah, I wasn't quite sure where he was coming from with that — I really don't. I think it might have been just [him playing] a bit of mischief."
Two weeks after Tipton announced that he was retiring from the road due to his battle with Parkinson's disease, Downing released a statement in which he said that he was "shocked and stunned" that he wasn't approached to rejoin the band and suggested that Sneap's "contribution to the new JUDAS PRIEST album was much more than just as a producer." His comments appeared to get a rise out of Halford, who fired back that "a lot" of K.K.'s statement was "completely superfluous" and dismissed as "a thousand percent false" the idea that Tipton didn't personally lay down all of his guitar work on "Firepower".
Downing later walked back his comments, saying that he only meant to say that Sneap probably not only produced "Firepower" "but also contributed song ideas, riffs and licks, lyric ideas etc. Even George Martin, I believe, provided much more for THE BEATLES than just the role of a normal producer," he explained. "An extra musician in the studio, like the aforementioned talented producers, really does bring a great benefit."
Downing announced his retirement from PRIEST in April 2011. He has since been replaced by Faulkner, who was once the guitarist in the backing group for Lauren Harris, daughter of IRON MAIDEN bassist Steve Harris.