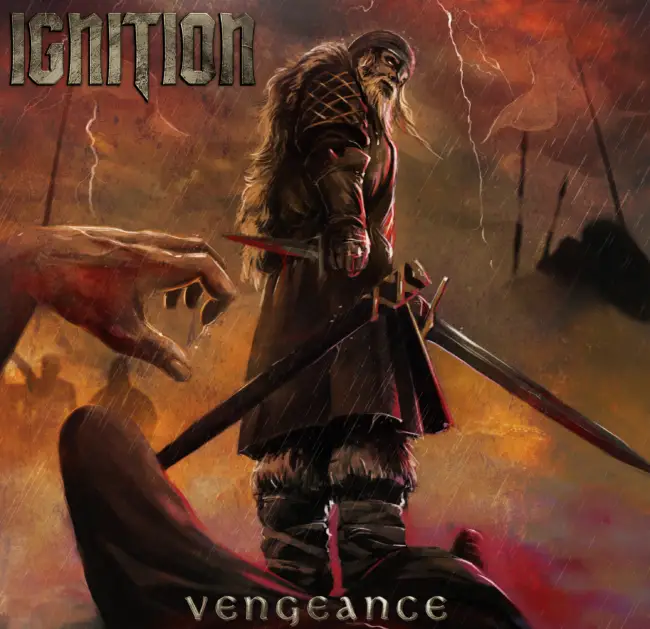 Does the mix of the old Blind Guardian and Trivium mean anything to you?
To the 2016's Ignition I guess it meant a lot as they themselves say their debut EP "We Are The Force" addressed a lot to them bands. Well, maybe as I haven't the chance to listen to it, but as far as I know this "Vengeance" sounds a lot more to Iced Earth than to the aforementioned mix. There are some tracks to support my thesis as "A New Dawn" whose melodic twin guitars address a lot to "The Dark Saga" era. Not ony the guitars but vocals on "A Dark Fate" – is it a coincidence? – followed by "Betrayal" reminded me a lot Iced Earth – may God have mercy of their souls. Dennis Marschallik's tone of voice made me go back in the past when the band was one of the most important Power Metal bands in the US.
The album commences with "Ignite the Fire," between you me and me a very proper name to what they do here. The track is frentic with lots of amazing drumming bullets. By the way, Lukas Leuuw is a hell of a drummer. The dude can carry a Power Metal tune with lots of creativity avoiding the standard double bass drums. Is there in it the aforementioned mix? Hum, good question. Maybe more of Blind Guardian as Trivium for me aren't too well known, but I still place my bets on Iced Earth. The Blind Guardian I know is much faster tough related to European Power Metal which is rather different from the US Power Metal. Speed is only difference. From where I'm standing, in short terms, European Power Metal is a form of Speed Metal; US Power Metal is a heavier form of NWOBHM. You, my dear child of the night, are invited to disagree.
It's not that I love to disagree with the bands I review. I haven't so many times here. It's just that sometimes I use it as a form of breaking the ice and start a conversation; I mean, a review. Truth is "Vengeance" is such a good album to be squared under a mix. I guess from what I've heard here with this album the days as the lost link between Blind Guardian and Trivium are long gone.
Ignition "Vengeance" will be released on September 15th via Doc Gator Records.
Track Listing:
Ignite the Fire
The Wounds That Cause the Pain
Adrenaline
Beastmode
Kingdom of Lies
A New Dawn
The Rise
A Dark Fate
Betrayal
We Were the Shieldwall
The Funeral
The Final Hour
Watch "Beastmode" official music video here:
1838