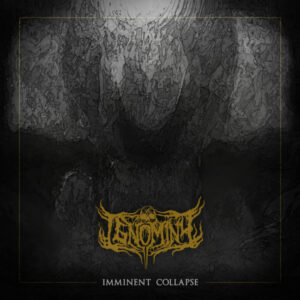 There are some musical features that only some genres are able to fulfill. I can't see a pop band having any kind of dissonance in its music. I can't see Rihana dancing on dissonant groove either. It's impossible. From where I'm standing only Jazz and Metal are able to have this kind of things into their music. To some extent, I love to get Dissonant Death Metal and Black metal albums just to check what they are doing. I mean, it's amazing to check out the musical solutions bands are finding to boost their music. Musically, the borders are limitless especially when the band deals with two guitars or even a keyboard. I just wonder the possibilities and all the noise it's possible to make with a formation like this. Add to that a nervous and chaotic vocal that does much more than growl or bark the lyrics. It needs to have some strong lungs and lots of technique. Lots of technique. Well, Ignominy don't have a formation like this. It's only one guitar with no keyboarding at all. As a matter of fact, vocals do most what I said.
It's been some time that we've been receiving Dissonant Extreme Metal bands, but Ignominy called the attention due to the flamming mix the band does here with "Imminent Collapse," an album that takes very seriously the term dissonant. I suppose it's nt that easy to mix the intended and mandatory dissonances into some music and make palatable – Well, palatable is term with a very different understand in the world of Extreme Metal music. Ignominy won't only use all the repertoire other bands are used to have in hand. They go farther with some solutions that call the eye of my dear child of the night that gets a little about music than only appreciate it. It's hard to point out only one track as "Imminent Collapse" is full of them. I'll do otherwise, I guess grand finale "Visuals" is the track with less out of the curve solutions. When I say less I don't mean there are no suicide solutions around the track. I mean there is less. I'll tell my dear child of thenight to pay close attention to the strumming in the middle of the song and the drumming in the background. Back there there are some incredible bass lines, if you pay close attention.
Ignominy "Imminent Collapse" will be released on March 10th via Transcending Obscurity Records.
Track Listing:
Frantic Appeasement
Defaulting Genetics
Reminiscence of Hatred
Premonition of a Dead End (Interlude I)
Nightmare Bacteria
Convulsions
Prélude Vers L'angoisse (Interlude II)
Visuals
Watch "Defaulting Genetics" official music video here: