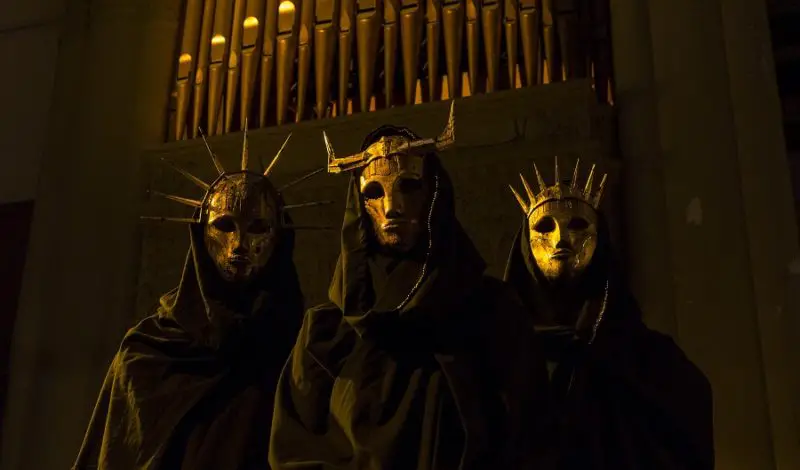 New York's nebulous avant-garde metal outfit IMPERIAL TRIUMPHANT have announced their forthcoming studio album, Alphaville, for a July 31st release of this year.
Now they've revealed the magnificent artwork by Zbigniew M. Bielak and track list.
The band comments: "We are pleased to finally unveil the cover of Alphaville. Working with Zbigniew has been a pleasure and he has put a lot of hard work into this magnificent piece. The detail is extraordinary and it pairs very well with the music. IMPERIAL TRIUMPHANT has always tried to go beyond just the sound. We strive to create a fuller experience for the listener. This cover takes you deeper into the abyss of our world."
Cover artist Zbigniew M. Bielak comments: "The extreme metal scene of today has long reached the apex of its aural inaccessibility. It has mutated so far beyond the rock and roll genome, that the sole artistic choices we're left with, are often between cavernous, almost inperceptible pulse and a sonic-induced epilepsy. Although ecclectism is seemingly thriving, it takes a rare band like Imperial Triumphant to really push the envelope.
Much like their home turf, lush with warm glimmer of brass, ripe with neuroses of alternative rock and crushing with weights of skyscraping Phalloi, IMPERIAL TRIUMPHANT are bringing the New Crossover. And boasting legendary Trey Spruance of MR. BUNGLE and FAITH NO MORE fame at the production helm, Alphaville is indeed a transgenre, cinematic venture into gilded bowels of the New York mythos.
"Based on multiple intersecting perspectives, the cover illustration was meant to convey the soul of NYC. With all of its innate duality, all grandeur and insignificance dealt lopsidedly in seamless 24 hour cycles, and most notably – it's architecture in mind – I wanted to keep the image perversely neutral rather than dark. Hence, unburdened by Metal, aesthetically it's closer to honoring late master Syd Mead's dystopics than – equally inspiring – hostility of HR Giger's 'Samurai'." 
Alphaville track list:
Rotted Futures
Excelsior
City Swine
Atomic Age
Transmission to Mercury
Alphaville
The Greater Good
Bonus tracks
Experiment (VOIVOD)
Happy Home (THE RESIDENTS)