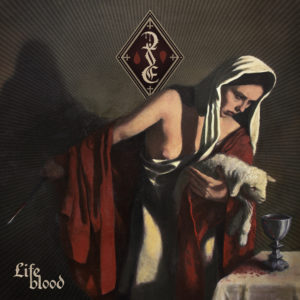 Ah, the intense musical violence and pungency of Extreme Metal. The malignant beauty within each track. The malevolent slow tempos and cadences that emphasize the power an the glory of musical evil. The evil poetry of guttural and harsh vocals that thickens all the songs giving them an out-of-this-world atmosphere and intent. The insane changes of tempos that makes the fan dizzy to try to reach all of them. The conscient choice of chords and effects that highlight the power of the guitars constrasting to vocals and giving the idea of dischord and dissonance. All of these things make In Twilight Embrace with "Lifeblood" an album that my dear fan will enjoy. It's amazing how the band has the ability of putting chords and effects in the flawless place in order to achieve the best sonancy.
I liked very much the poetry within the name of the band In Twilight Embrace with the tittle of the album "Lifeblood." Both together makes a hell of poetic meaning. Check it out: In Twilight Embrace "Lifeblood." Wow, form where I'm standing full of meaning. This band, I guess, has a thing for word games as the arragement made to "So Bleeds the Night" sounds perfectly what the lyrics and the tittle say. Here In Twilight Embrace mix Black metal with some Gothic Rock traits to give the song that black and dense aura we appreciate so much. "So Bleeds the Night" is long giving the band the chance to vary a lot the tempos and the cadences in order to tell the story. Songs are a story, if you know what I mean and this bands really knows how to put into musical chords what they write in words. The band shows that there are perfect times to change the cadence and give the song a burst. Following track "Sedation to Sedition" has the same features. It's a little slower but more pungent just because this slower cadence and the clean guitar that contrasts with vocals giving an ethereal atmosphere to the song. Again the clean guitars emulating a Gothic Rock feature is what gives the spice to "Sedation to Sedition."
Here we've got an album that will pleasure all extreme metallers. It's pungent, striking, and with lots of finesse. "Lifeblood" is a memorable album to say the least.
In Twilight Embrace "Lifeblood" will be released on May 13th via Malignant Voices (CD) & Terratur Possessions (LP).
Track Listing:
The Death Drive
Smoke and Mirrors
Lifeblood
Iskry
So Bleeds the Night
Sedation to Sedition
Te Deum
Watch "Smoke and Mirrors" official video clip: