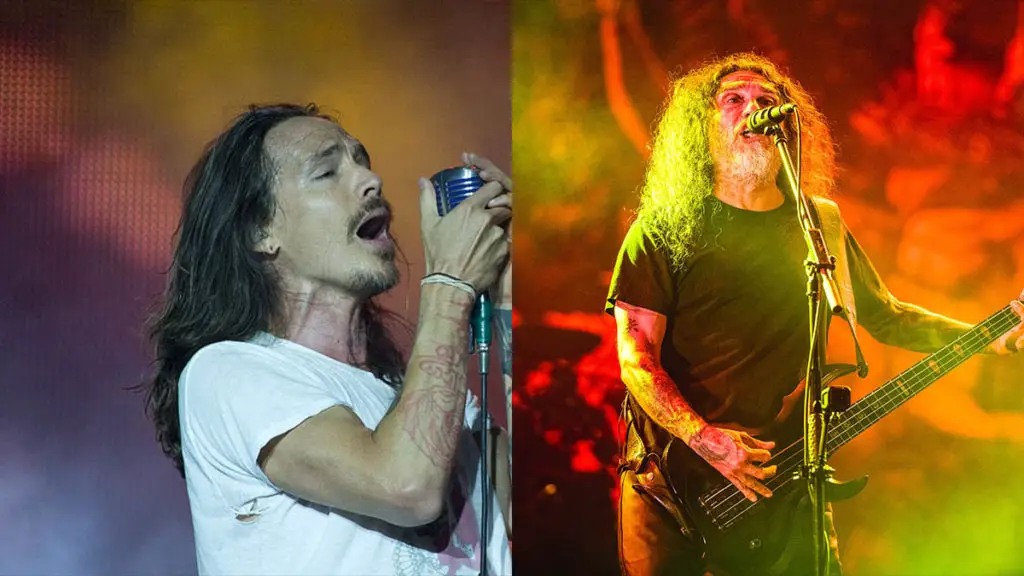 During a recent appearance on Revolver Fan First podcast, INCUBUS frontman Brandon Boyd talked about SLAYER, PRIMUS, and more.
After interviewer said, "You guys toured with PRIMUS. How did you guys bond over PRIMUS in your band? What was it like actually experiencing the weirdo magic of Les Claypool? He once described to SLAYER as a chicken pot pie, seven minutes out of the oven — comforting, familiar, warm, which remains my favorite SLAYER analogy in the history of time. That guy is off another planet," Brandon responded: "That's amazing, that's actually a really great description of that band. I saw SLAYER too at Whiskey A Go Go, and it was terrifying.
"I was afraid for my life, I was with Mike [Einziger, guitar] from our band, and we watched like the first handful of songs, and we were like, 'We gotta get out of here, we're gonna die. I don't wanna die at a SLAYER concert.' Which would make me a terrible SLAYER fan, by the way. If you're a real SLAYER fan, you're down to die at one of their shows."
"With PRIMUS, PRIMUS was one of those bands that myself, Jose [Pasillas, drums] from our band, and Mikey from our band, the three of us fully bonded over them," Boyd continued. "We would just crank their music in the car outdoors. I think it was a part of the musical prowess of all three of those guys and the technical skill that they embodied.
"And still, to this day, where it's sort of like, 'Why do you know how to play music like that?' This is the other thing, how weird they are! And we were like, 'They're eating a different brand of pot pie than the rest of us.' It makes me feel like there's something different in the water where they're from. And they're from California but they're from northern California. But we got to tour with them, we opened up for them on the 1999 tour.
"It was the Antipop tour that they did, and we even did the Millennium show with them. We played and then they were on stage as it went from 1999 to 2000. And 30 seconds from midnight, the crowd started to get really amped up and really started to get quite loud. And I don't know if you remember but there was sort of this lingering, irrational fear that everything was going to shut down."
You can watch full interview below.