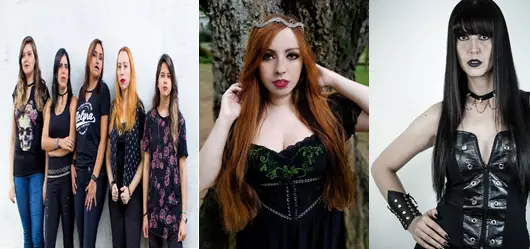 Metal Addicts – Hi, girls. It's such a great honor to be talking to you about that serious subject that is the presence of women in Metal. Just the other we reported that Nighwish's Floor Jansen was disrespected by a fan who was screaming "Boobs," Within Temptation's Sharon den Adel was subject to a magazine cover which was very sexist. I posted an interview I conducted with Aline Happ in a very famous page and some viewers were very impolite, to say the least. We could go on. Why is it so difficult to be a woman in a man's world as Heavy Metal? Has anything like this ever to one of you?
Aline Happ – Hi! It is a pleasure talking to you. I don't think this is something from a specific music style or exclusively a man thing, but from insecure people in general. People are seeking for attention and act like idiots because they believe it will be funny and they will be noticed somehow. They think they could be rejected being polite and saying something nice so they prefer to attack first. Generally, they are hidden among a crowd or behind a screen to feel safer and stronger. These people think they need to compete with everybody and some of them think they would look "virile" making some kinds of comments.
I don't know if I feel angry or if I feel sorry for those people. Obviously, people don't need to like all the bands of the world, neither to agree with everyone, but they should respect the others. As you said, the last interview we had is a perfect example of how people can be aggressive without any reason. I never had problems in concerts. In fact, metal fans in our style are usually very respectful, but unfortunately there are some exceptions, especially on the internet.
Fe Schenker – Hi, we're glad to be here! Well, I think it's not only about heavy metal world, it's the whole world! Our culture is man centered and feminism is a new movement, born in the last century to fight for women's rights. And yet, there's a big road to travel when it comes to women's rights. Unfortunately, I dare to say that every single woman has been through something like this in her life and we are no different. But fortunately the big majority of our fans are very respectful with us.
Mônica Possel – I think it's hard for women to get into the male heavy metal world because women first need to identify with this male world. That is, not liking things that society standardizes as feminine, for example pink, romanticism and flowers. The world of HM is quite the opposite of that. Mainly the predominant color is Black and in addition it has much pre-concept in this medium. Example in my teens if I wore a band shirt, there was always a guy who would come and ask me: which album did I like better or who was the band's guitarist? Just to validate my taste for this musical style. To be accepted in the middle, in the group, I would have to really have knowledge of the Metal world to include me in the group. When you are a woman, it is not enough to just enjoy yourself, and they still ask: "Do you like this because your boyfriend influenced you?" It's kind of bizarre really.
Metal Addicts – Heavy Metal is much than the music, it is the image too. In HM world male metallers do care about their image and looks. I think that there is no problem in using the gift of beauty, but to women is it mandatory to be beautiful to be in a Metal band? Do you think it helps or makes no difference? How do you deal with that? What about the dressing code?
Aline Happ – Everyone has their own beauty pattern, but nothing matters if there is no beauty inside and in this case, talent too. I also believe it is important to have a look that matches with your music style, because it helps people to relate to your music. This is what can call the attention of the crowd at the first sight. But you should wear whatever you want and what makes you feel good. I wear what I like, I also make most of the accessories I wear on the stage.
Fe Schenker – I don't think it's mandatory, but this is me. The industry, though, definitely does "think". And again, I don't think it's only about metal world, entertainment market is cruel to women at all. We do care about our image and usually we inspire ourselves in other women from the scene to build our looks. We don't put this as our priority, for us, music comes first. About clothes, what we do is choose something that is comfortable, looks good and matches with each others styles.
Mônica Possel – Yes, the woman's appearance in a HM band makes a lot of difference, I will not be a hypocrite to say no. There have been cases of people going to see the band because of my photo. But I believe that this happens in the feminine world too, attracting people for beauty, I believe it is something common. Now if this negatively affects you, as there have been cases with me, then it's not legal. It is always good to have respect above all else.
Metal Addicts – Heavy Metal is a tough and aggressive musical movement. Its music has to be loud and cause some estrangement. Sometimes Metal music is odd. Why do you think most women avoid Metal and prefer other less aggressive musical styles? What would suggest to make girls be fond of Metal?
Aline Happ – I believe it is more a historical and cultural thing and because there are many more female models to be followed in pop, for instance, than in metal. So, it becomes a kind of deadlock situation: we need more women as audience to later become musicians, but we need more successful female musicians to attract more women as audience. Despite it, many people that are not familiar to metal think it is noisy and aggressive, so there is a prejudice with this genre. In this sense, I believe some people associate this supposed aggressive behavior to a man thing.
Fe Schenker – I think that women at all are more compared to "regular standards" than men. And headbangers are nothing like "regular standards"! We listen all our lives about how we should dress, behave, speak and feel and society judges women much more than men. In addition to it, metal music is not disseminated in our culture as it is in Europe, for instance. So, if you put these two things together, you can understand. It's not easy to break all the rules and dive into a world that looks so masculine in it's edge. But, when we allow ourselves to explore it, we see that deeply metal has no gender at all. It's just another way to express the same universal feelings.
Mônica Possel – It seems that Metal is very masculine at first sight, as you said, loud music, guttural vocals, end up scaring people a little, and I don't say especially to women, I know many men who don't like the aggressiveness of sound really. But I believe it's only the first impact, once you've gotten to know better, the histories of the musicians behind the bands and the lyrics of the songs, you end up realizing that it's not all that aggressiveness … hehehe.
I started in the Metal listening to symphonic and melodic metal, because of my conservatory in lyric songs, so I knew bands in metal that have this effect vocal. I think that would indicate for the women to hear this style of sound to begin in the world of Metal.
Metal Addicts – Please, tell us what was the most awkward moment you've been through in a gig. Has any of you ever been disrespected?
Aline Happ – Once, in the beginning of the band, we played in a place that the promoters start to fight after the concert. We have just run away from the place. I can't remember of being disrespected directly in a gig, at least at the moment.
Fe Schenker – Well, I would not say disrespect is the right word. I'd say we are ALWAYS discredited. Something that always happens (and really bothers us) is that, when we arrive at the venue, most of the guys who don't know us look at us and say we're there "because we are pretty" or "because we had sex with someone". They never give the credit to our hard work! And, at the end of the gig, we always hear some of them say something like "wow you guys  are not bad!" or "you really play like men". We try to act normal but it always irritates us.
Mônica Possel – On the stage? If so, I was singing a part of a song with a little instrumental, with only a piano base and the audience was silent, when suddenly someone shouts "Hot." I pretended not to hear and kept singing. But I felt extremely embarrassed, because what I wanted the person to enjoy was my voice or my music and not my appearance.
Behind the scenes there was nothing very critical then.
Metal Addicts – I love female bands, and I said that a lot of times at Metal Addicts. Female bands have a different approach, different lyrics, the playing is somehow different. One of the albums I love most is Phantom Blue's self-titled, an all female band. I love bands as The Runaways, Lita Ford's solo career, Doro, and many others. Who are your female influences? Do you have a role model? What about male bands, who are your idols?
Aline Happ – Can I disagree with you (laughs)? I really like a lot of female bands, however I don't see this difference in the approach and lyrics. I think this difference is more related to the band's style. So, I don't care if it is a woman, a man or even a mascot playing (laughs), I just want to enjoy the music. My main female influences are Amy Lee, Cristina Scabbia, Floor Jansen, Sarah Brightman, Sharon den Adel, Simone Simons and Tarja. Talking about male bands, I like Disturbed, Metallica and so many others.
Nowadays, I believe I am becoming a role model to myself because I try to be the best version of me everyday, learning from mistakes and from victories. Also, people say that I am becoming a role model to them, since I am writing and singing about something they can relate to.
Fe Schenker – We also love female bands! I think our biggest female influences are Doro Pesch and Crucified Barbara, but they're not the only ones. All of us like female fronted bands and female musicians and each one of us have it's own influences when it comes to it! I, for example, have Nita Strauss and Lari Basilio as role models as guitar players.
About male bands, again, each one of us have different idols and that's what makes our music so rich and deep. In general, I'd say we all take Iron Maiden, Judas Priest, Metallica and Black Sabbath as models and add to them our personal tastes.
Mônica Possel – My main influence on female singing is Floor Jansen. Since her first demos in After Forever, I have followed her and studied everything she studied, such as Complete Vocal Technique, which is her singing school.
I respect so much Tarja Turunen, for she had initiated and popularized this style in the world metal too.
In the area of male vocals, I already have a lot of people, but in the tops are Jorn Lande, Dio, Russel Allen, Coverdale, Glenn Hughes and Tom S. Englund.
Metal Addicts – Metal fans are the most loyal fans says a research conducted by Spotify. But sometimes fans confuse loyalty with blind following. What kind of Metal fan are you? Any problem with fans in general?
Aline Happ –  I don't know how to classify me. I like many bands and have seen some of them live, some more than once. I think it is important to pay for the artists music.
About problems with fans… I love to stay in touch with them. But there are some fans that don't understand that you can't answer them very fast every time they message you. Then, they start to send you more messages asking why you are ignoring them, etc. We are always trying to stay close to our fans with the lives, messages, etc., but sometimes it is not possible.
Fe Schenker – We're the loyal ones! We love metal, we love to discover new bands as much as we love to listen to the classic ones. But we can be impartial when it comes to music quality and criticize a band that we love (and we'll still love it!) the same way we are critics with our idols social and political views.
Mônica Possel – I recognize all styles of Metal and I value each one of them. I'm not a fan of a style or a band just. As a musician I need to consume everything that is music, to open my range of possibilities to create my compositions as well. I've already gone from the stage of arguing because such a band is better than another or because such a singer is better than another. I find that discussion very unfounded. I'm very close to listening to what I play, it may be old or new band, if it touched me deeply, then I'll listen.
Metal Addicts – What's your musical background? Have you studied music formally or self-taught
Aline Happ – I started to take singing classes when I was 13 and I have studied different singing techniques as the erudite and the popular ones. Nowadays, I don't attend to classes anymore, but I am always practicing and trying to improve my techniques.
Fe Schenker – Nena, Roberta and Drika grew up in musical environments, the three of them have a parent that is a musician. But all of us already had lessons at some point in life and we always keep ourselves studying to improve our music as much as we can.
Mônica Possel – I graduated from music conservatory for 7 years of lyric singing and 6 years of classical piano. I continue studying singing with some vocal coaches and I give music lessons.
Metal Addicts – In my teen years – it was a very long time ago – there were very few women as musicians and fans. The way I see it, it has changed a while throughout the years. Do you agree? Can we say that Metal has become more friendly to women? Or not?
Aline Happ – I believe so. Not only in metal, but in general, women have been participating in areas that were before predominantly male. We started to have more women being recognized as great artists and this brings more women to the metal scene, not only as an audience, but as musicians too.
Fe Schenker – Yes, we agree! I'd not say metal has become more friendly, I'd say women made their way through it. What I see is that, more and more, women are braking rules and standards to go to where we want to be.  
Mônica Possel –  The world has become more friendly to women. There is still a lot of evolution going on, but the metal scene accepts women more, although there is still a lot of harassment and preconception, but it has changed a lot of years.
Metal Addicts – Okay, it was great talking to you. At last, do you have any advice to the girls that are about to rock?
Aline Happ – It was my pleasure. We recently released the music video for "Let me be me," one of the tracks of our second album, "Immersion." The lyrics can have different interpretations; here I would like to connect it to girl power. Don't let anyone say what you should do, don't let anyone try to change you. Be yourself and don't give up your dreams. You are strong and capable to do whatever you want to. So, keep believing, working hard. Keep rocking! \m/
Fe Schenker – JUST DO IT!  
Mônica Possel – If you want to know the metal world search for bands in Spotify. Today the internet helps with this. Go to some local scene show, even if you don't know the people there, invite a friend who likes the sound and go to meet. Watching a live show is very different than just listening to the song in your favorite player. But neither does it mean that one invalidates the other. You can start by listening to some bands, the most famous that everyone indicates to enter the metal world: Iron Maiden and Metallica. Then you know something of Power Metal like Stratovarius and Dragon Force for example and then if you like it, go to a more obscure sound like Doom metal for example. But there isn't much logic, listen and see what your heart identifies and don't be afraid to hear these sounds even if you like pink for example … hahaha …;) The song is there for everyone and this kind of preconception is already past.
Metal Addicts – Thank you very much and keep the Metal flame high!
Aline Happ –  Thank you! See you on the road!
Fe Schenker – Thank you very much for this interview!
Mônica Possel – Thank you very much and keep the Metal flame high!