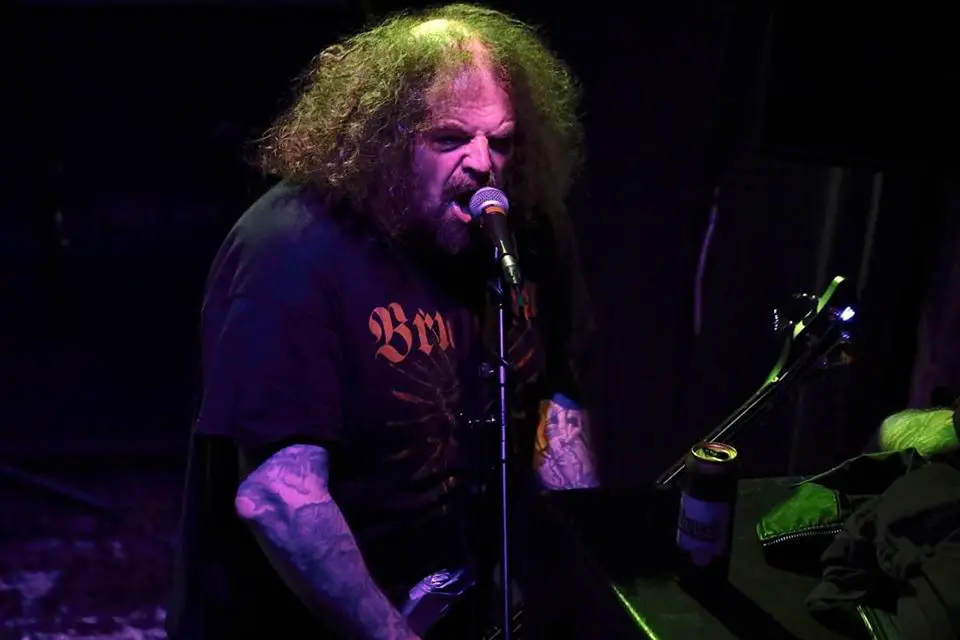 It's quite important for artists to have their own opinion about things they're speaking about. But they mostly to pass all the ideas through a prism of their personal experience and worldviews. Venomous Concept always been political. But, at the same time, they managed to find their own way of speaking about important things. Through sarcasm and irony. Their upcoming "Politics Vs. The Erection" would be perfect example of this. Released after 6 years of silence it drove the band to the brutality of their early recordings.
Founding member and the bass-player of Venomous Concept – Shane Embury, spoke to Metal Addicts about the upcoming "Politics Vs. The Erection" and friendship, about Big Black and Poison Idea, about the process of writing music and his attitude.
It seems to me that this year is quite successful to you: the newest Napalm Death EP came out, as well as the record by your ambient-project – Dark Sky Burial. Why did you decide to get back to Venomous Concept now ?
This album was actually finished last year. It's just the nature of the record label's schedule. I keep insanely busy in my downtime that there seems to be a constant flow of projects from me.
Having lots of side projects, what helps you to understand what idea would fit better for this one or that one ?
Mainly ideas – styles of riffing and the nature of their songs! Occasionally, the lines blur between bands which is inevitable, but of course different musicians add different flavors.
What was the beginning of what would come "Politics Versus The Erection" ?
Well, we had already begun on one album and decided that this should be a stepping stone to that album in terms of music tempo. So "Simian Flu" and "Lemonade" were the blueprints.
What were your stimulus when you only started Venomous Concept and how much have they changed from then ?
Hard to say; I like spontaneity and unpredictability! My friendship with Kevin [Sharp] has been an amazing ride of experience over the past 30 years! That's the continued inspiration.
Kevin [Sharp] noticed once that there were mostly politics that became the inspiration for you to upcoming "Politics Versus The Erection" – and if we'll look back in the history, back in that days punk-rock played such a role. With artists like Crass with Discharge or The Exploited. How much these things and their attitude affected you at that point ?  
I think Kevin looks at these situations in a very satirical way, and actually, so do I. Politics don't affect me as I try to ignore a lot of popular opinion and live my life based on my own memories and upbringing. I am not one to really want to make a point. I like to play music.
You used to mix various musical tendencies while recording "Retroactive Abortion" – probably the most brutal record of yours. How did it came together ?
Em…Sort of treading to familiar ground. Lucky enough as time progresses you find your feet more.
What can you say about your work on "Politics Versus The Erection", how can you describe the record itself and according?
Braver and another step towards pleasing ourselves and hopefully carving out a stronger identity of will.
What keeps the process interesting to you and what helps you to be fresh with it ?
We live our lives and as we become older we can see how we have been fortunate enough to travel the world and be enriched by different cultures! Politics – politicians invariably don't say anything new they stagnate missing. The key fundamental values of life – this DNA is imprinted in all of us.
 "Lemonade" sounds quite different in comparison with previous "Kiss Me Silly" – you started recording that record after 8 years of pause. What was the start of it ?
I liked the repetition of songs like BIG BLACKS' "Kerosene" to do a song, which hopefully inspires a feeling of rebellion and self release – sonically hard on the ears.
And how much your songwriting changed from then ?
Hard to say, I bounce in between so many styles and am restless. I like making music. Time is experience and you refine your craft.
Following your words, the project itself was inspired by Poison Idea attitude – what exactly did you took from them ?
The attitude and teenage feelings that you were not the only one out there who hates the norm.
Is there a sentence that probably can describe "Politics Versus The Erection" the best ?
Harumph ! Vote clown party !!