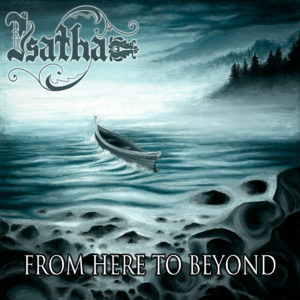 I love Folk Metal! There I said it! Especially when it comes with female singers. Well, the great majority of them com with female singers. But, no problem. The love and feeling are just the same. To be fair, "From Here to Beyond" shows a band that shares the vocal duties between Judit Dauda and Dániel Horváth who takes the ead vocals for most of the album. Judit does a kind of harmonization, choruses and things. Isatha here do the well-known however fantastic contrast of harsh and clean vocals a thing that I simply love. One of the many reasons I love Folk Metal bands is due to this contrast not only on vocals but also instrumentally. Also between the modern sonancies as guitars, drums and basses with ancient instruments such as flutes, fiddles and others. Folk Metal is also a part of a larger movement all around this sad and lonely and pathetic little planet that is a kind of return to ancient cultures linked to all nature's deities. That's why mostly songs' lyrics are about nature and our relationship with nature – if there's one after all those years of destroying natures habitats and anything vaguely related to woods and bushes. No wonder "From Here to Beyond's" intro has the sounds of crickets and other landscapes representations. Maybe that's also why it's tittled "Arrival." Isatha try here to turn into music all that rich enviroment and traditions but they don't forget to be heavy and deep into Metal music which is the reason of the existence of any Metal band. Or am I wrong?
This vocal sharing allows Isatha to reach deeper meanings with their music and explore more sonancies. Even though all the sweet and light instrumental references that are part of a Folk Metal band "From Here to Beyond" has a deep foot on Extreme Metal. The harsh vocals applied on "Whirling Deep Green" contrast with the piano and enrich the mood. On the other side of the coin, Judit Dauda's harmonizations in "Nature Arise" will make the fan remember the very famous TV show "Vikings." By the way, what a waste. Isatha would be perfect to record the soundtrack of any TV show related. Well, here's the idea. An interesting and important thing about "From Here to Beyond" is that the fan can feel in the bones this tight relation the band has with their ancient values. It's not a trend thing. I wouldn't be surprised to know that any of their members are part of any cult of the likes.
I recommend "From Here to Beyond" to all fans of Folk Metal and all of them with open minds to listen to something if not original very true. Ah, the music is also fantastic… hahahahahahaha
Isatha "From Here to Beyond" was self-released on January 09th.
Track Listing:
 Arrival (Intro)
Whirling Deep Green
Nature Arise
Cliffs of the Sea (Interlude)
Pan
Gift
Feast with the Fallen
Tavaszi Szél
Farewell (Outro)
Watch "Whirling Deep Green" official video here: