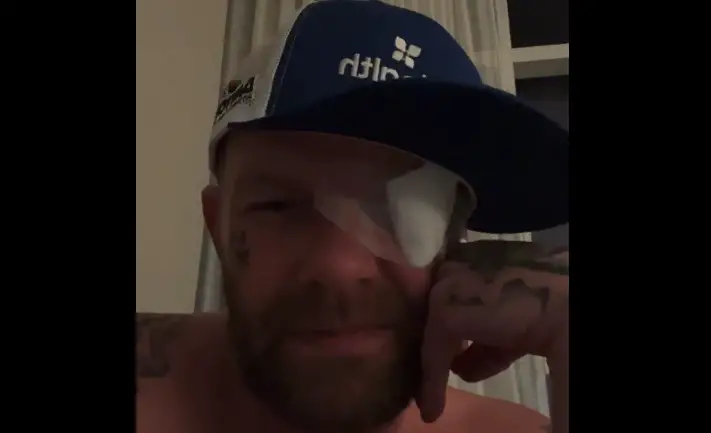 FIVE FINGER DEATH PUNCH singer Ivan Moody injured his right eye after getting it exposed to a laser beam during the band's performance Thursday (May 19) at the Welcome To Rockville festival in Daytona Beach, Florida.
Later that night, singer took to Instagram to share a video explaining what happened. He said in a part: "During the set I got overheated, and I walked back and I passed out… I was grabbing towards Charlie's [Engen, FIVE FINGER DEATH PUNCH drummer] kit. And the heat — it was exhausting. Charlie almost passed out too. And I reached for a cymbal and I felt myself going under. And so I ran back. And I was okay. My [guys] helped me out.
"And as I'm coming back onstage, one of the lasers kicked backwards, 'cause I tripped basically over it, and it shot me in the eye. And these things are like… they basically have the power of a minor supernova; they're really bad. If you put your phone up to one of 'em, it'll actually black out your screen.
"So, anyway, I've gotta go back [home] to [Las] Vegas and I've gotta see a real eye doctor," Ivan continued. "And hopefully it's okay. I can't see out of it right now. It's, like, have you ever stared at the sun or a lightbulb and you get that green light — it blackens it out. Imagine that times, like, a thousand. They thought my retina was separated; that's how bad it was.
"So when I go to Europe here in a couple of weeks, you all might be seeing me with a f*cking patch on my eye. Go ahead. Make fun. Don't care. But it is what it is. I had a blast. Like I said, I'm really sorry. I felt like I got exhausted [during the Welcome To Rockville set] — the weight of the humidity. 85 percent humidity in 90-degree weather, it takes a toll. And I saw a lot of you falling down. And when I went to the E.R., there were a lot of you out there."