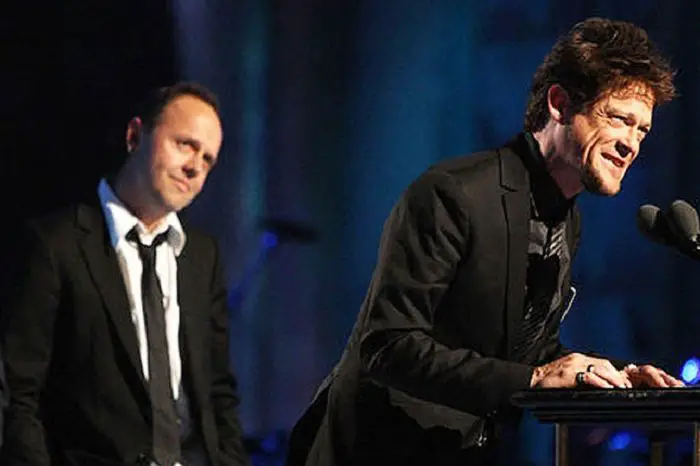 While being a guest on the episode of SiriusXM's "Trunk Nation With Eddie Trunk" that aired last Tuesday (April 18), Jason Newsted discussed the present state of his connection with his ex-METALLICA band members.
"I've texted back and forth with Lars [Ulrich] the last couple of days," Newsted responded. "We try to stay in touch — he and I do — and talk about whatever. He's interested in [my] art a lot; he's always been very supportive of that, so I'm grateful. But also with the music stuff… And I know that his sons [who have their own band called TAIPEI HOUSTON] — I'm a fan of them and they're fans of my stuff, and that's a cool thing.
"It's an incredible thing, actually. And I've got nothing but mad respect. That's it. That's what I've got. And I'm so frickin' proud of those guys. Still cutting it like that, man? C'mon now. And taking this big of a bite and going for shows all the way up through — what? — fall of '24 or something? Frickin' huge balls, dude. Incredible. How can't you applaud that? … I'm always surprised. It was obviously meant to be. Who has this kind of staying power? I mean, it's such a unique thing — such a unique thing."
Asked about whether he has ever talked with the present METALLICA bassist, Robert Trujillo, regarding his technique for performing the group's iconic tracks live, Newsted responded:  "We haven't really had conversations with that kind of detail before. No." He added: "They sound killer right now. They have for a while live. They've got a great thing going, man, for real. It sounds killer."
Jason Newsted left METALLICA in 2001. Initially, he stated that it was impossible for him to play a more creative role in the band, and METALLICA was spending too much time fighting Napster instead of focusing on new music. He later revealed that the main reason for his departure was his dedication to his side project, ECHOBRAIN, which was not supported by METALLICA frontman, James Hetfield. Newsted proposed a year-long hiatus to focus on ECHOBRAIN, but his proposal was rejected by the other members. Monotony and the inability to try new things also contributed to his decision to leave the band.