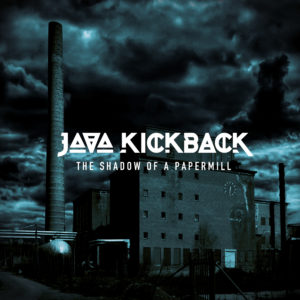 Besides the obvious resemblance with Bon Jovi brought by the voice of vocalist Stefan Leoson this album intrigued me with a Beatles taste that I couldn't recognize at first with album kicker "In the Shadow of s Papermill" a vibrating hard rock track. It was only with third track "Flawed" that I really noticed that there was really something of Beatles in the album. The intro to the aforementioned tracks tells it so. Going a bit farther there is "Eye of the Beholder" whose initial vocals resembles a lot with John Lennon even if the intent was not that. Maybe it's just me with The Beatles in my mind for no reason.
It seems to me that Java Kickback bulit "The Shadow of a Papermill" up to be as intriguing and energetic as 1980s Bon Jovi's Hard Rock though the album tittle is much more to Prog Rock and its roots go to The Beatles. Okay, "The Shadow of a Papermill" has the finesse the three together. It is a delicate album to listen and cherish as getting a small rose by its petals. Okay, not to Metal to say this but who cares. I don't. The initial guitar riffing track as "Liar" says that there is a lot to burn though when vocals came the song changes a lot but the guitar riffing is there. Of course, this guitar and no guitar of this album will change my Extreme Metal fans but it's a start. However, the impression of the tone of voice of Jonh Lennon's is still there. What can I do?
Right, "The Shadow of a Papermill" isn't the kind of album that all my fans will try to listen. Well, they'll be missing a piece of finess as no other band has done here in a while. And finesse is really something that Metal music could use. Ok, many bands use it but not all. It's a desired feature for all, if you know what I'm saying. Just take a look at "Royal Parasite" and tell me if the gentle mood of the song doesn't do any good. See the way the guitar solo evolves into the final burst. Amazing. I guess it does a lot.
Java Kickback "The Shadow of a Papermill" was released on March 11th.
Track Listing:
In the Shadow of a Papermill
Break the Chain
Flawed
Head vs Pavement
Eye of the Beholder
Liar
Royal Parasite
Odd Soul
Be Silent
Cute but Killer
Watch "The Shadow of a Papermill" oficial music video here: