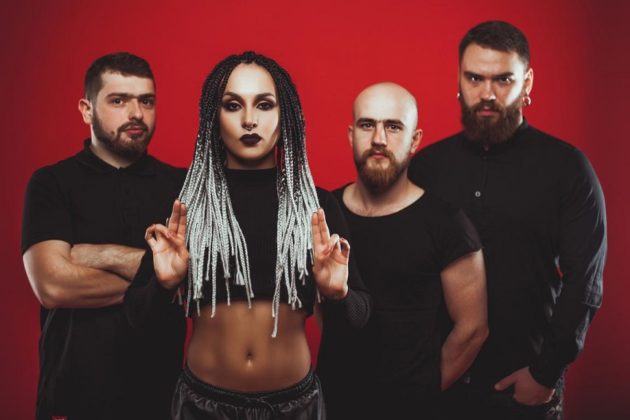 Just as JINJER get ready to hit the road as support of the mighty ARCH ENEMY it's time to premiere a brand new performance video off of their latest effort "King Of Everything". The first tour leg will bring Ukraine's best kept metal secret JINJER all over Europe!
Check out JINJER brand new live performance video "Words Of Wisdom" below.
JINJER is already looking forward to be touring again:
"We are literally counting the days until this tour starts! It's everything that we've been working up to for the past few years: bigger venues, bigger crowds and smashing the stage every night with the likes of a heavy metal giant like ARCH ENEMY. This tour will be one for the record books for sure!"
This tour kicks off this Friday and winds up in the beginning of October. Then there is no rest for the wicked as JINJER will be touring in November for their first ever UK headline tour, followed up by the second leg of the ARCH ENEMY early 2018!
The band stated: "We received such a huge reaction for the WHO IS GONNA BE THE ONE video that we thought we we'd drop one more track from the Atlas Weekend Festival session before heading out on tour. WORDS OF WISDOM is a band favorite to play live and a track that personifies everything Jinjeris about. Hope you enjoy it as much as we do!"
With their stunning Napalm Records debut "King Of Everything", JINJER have proven what they are made of and that this band around front-woman extraordinaire Tatiana Shmailyuk is more than ready to conquer the world! All upcoming JINJER dates as Support of ARCH ENEMY as well as their headlining tour in the UK can be found listed below:
JINJER as Support of ARCH ENEMY
"Will To Power Tour 2017"
15.09.2017 AT – Innsbruck, Music Hall
16.09.2017 AT – Linz, Posthof
17.09.2017 SI – Ljubljana, Cvetlicarna
18.09.2017 RS – Belgrade, Dom Omladine
20.09.2017 RO – Bucharest, Quantic Club Open Air Stage
21.09.2017 BG – Sofia, Universiada Hall
22.09.2017 GR – Athens, Piraeus 117 Academy
23.09.2017 GR – Thessaloniki, Principal Club Theater
25.09.2017 SK – Bratislava, Majestic Music Club
26.09.2017 PL – Warsaw, Progresja
27.09.2017 LT – Vilnius, Loftas
29.09.2017 LV – Riga, Melna Piektdiena
30.09.2017 EE – Tallinn, Rock Cafe
01.10.2017 FI – Helsinki, The Circus
03.10.2017 BY – Minsk, Re:Public
21.10.17 UA – Kiew /Sentrum
*supporting TWELVE FOOT NINJA
JINJER UK Headlining Tour
17.11.17 UK – Dublin / On The Rox
18.11.17 UK – Limerick / The Kasbah
20.11.17 UK – London / The Underworld
21.11.17 UK – Milton Keynes / Craufurd Arms
22.11.17 UK – Manchester/ Gullivers
23.11.17 UK – Glasgow / Audio
24.11.17 UK – Sheffield / Corporation
25.11.17 UK – Nottingham / Rock City Basement
26.11.17 UK – Birmingham / The Flapper
JINJER as Support of ARCH ENEMY
"Will To Power Tour 2018"
w/ Wintersun, Tribulation
12.01.18 DE – Munich / Tonhalle
13.01.18 DE – Stuttgart / LKA Longhorn
14.01.18 CZ – Prague / Forum Karlin
15.01.18 CH – Zurich / Komplex
17.01.18 IT – Milano / Alcatraz
18.01.18 FR – Lyon / Transbordeur
19.01.18 ES – Barcelona / Razzmatazz
20.01.18 ES – Madrid / La Riviera
22.01.18 FR – Toulouse / Le Bikini
23.01.18 FR – Paris / Bataclan
24.01.18 BE – Antwerp / Trix
26.01.18 DE – Oberhausen / Turbinenhalle
27.01.18 DE – Geiselwind / Music Hall
28.01.18 NL – Tilburg / O13
29.01.18 DE – Hamburg / Große Freiheit
31.01.18 SE – Malmö / KB
01.02.18 NO – Oslo / Rockefeller
02.02.18 SE – Stockholm / Arenan
03.02.18 SE – Gothenburg / Trädgarn
05.02.18 DE – Berlin / Huxleys
06.02.18 DE – Wiesbaden / Schlachthof
07.02.18 DE – Saarbrucken / Garage