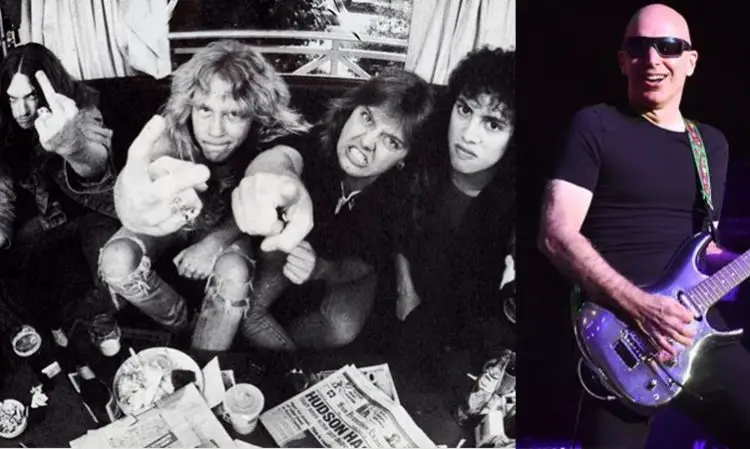 During a recent appearance on Talkin' Rock With Meltdown, Joe Satriani talked about METALLICA, recalling the time when he gave young Kirk Hammett guitar lessons.
When asked if he was able to see if METALLICA would become what it is today, Joe replied: "I did. It's funny that you should ask me that because I remember going back to rehearsals in the early '80s and telling my other guys; I said, 'There are these kids I'm teaching during the daytime, and they are gonna change the world.'
"And I played them something, and they would all look at me, like, 'No one is ever gonna listen to that. That will never be on the radio. They'll never get past playing community centers and Sundays at the park.' And I'm, like, 'Are you guys crazy?'
"'Cause when I would sit across from guys like Alex Skolnick [TESTAMENT guitarist] or Kirk Hammett, I could tell that they were turning into geniuses – they were turning into super talents and I didn't see anything standing in their way, but I couldn't convince my older friends that it was happening.
He continued: "I think perhaps they were resistant to it 'cause it wasn't their style… maybe they were threatened or something, but because I was a teacher, I wasn't threatened. As a matter of fact, I was a big cheerleader. I was the one who was saying, 'C'mon, let's do it!'
"I knew they could do it. It never entered my mind that they would not be able to achieve what they wanted to do. They had the three important things: they had the physical talent, they had the intellect – they were smart – and they had the heart, their heart was in the right place.
"They really were great students," Joe added. "They practiced hard, they knew what they wanted, they wanted to change the world, and they just had that right amount of anger [laughs] at the older generation that's so necessary when you're that young. They wanted to change the world, and they did, so, yeah – that's great."
METALLICA recently cancelled their headline performances at Sonic Temple Art + Music Festival in Columbus, Ohio (May 15 and May 17) and Louder Than Life in Louisville, Kentucky (September 18 and September 20) to allow frontman James Hetfield to continue his recovery.
"It pains me to write this, but I have to let all of you know that I cannot make it to Sonic Temple in Columbus and Louder Than Life in Louisville this year," James wrote in a statement. "As part of my continuing effort to get and stay healthy, I have critical recovery events on those weekends that cannot be moved. I apologize to all of our fans who have bought tickets for these festivals.
Tickets for METALLICA's remaining 2020 dates are available at this location.