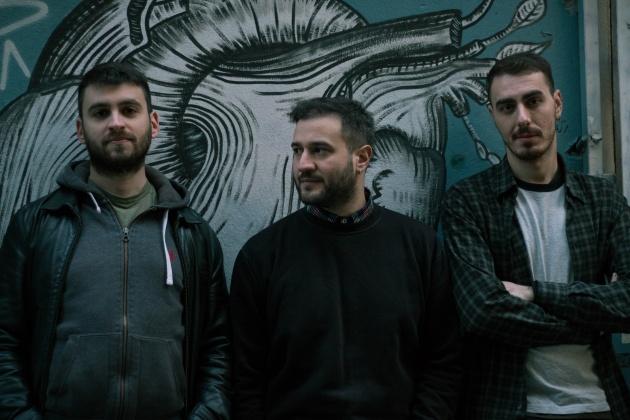 Athens' metal and folk- spiced heavy rock 'n' rollers, KHIRKI, will see the release of their first and highly awaited full- length album entitled Κτηνωδία on May 21, 2021.
Now, the band released a second single from their upcoming debut, the high- voltage track "Bukovo". You can watch the video visualizer for the track below.
Diving deeper into Greek mythology, Κίρκη – pronounced Κírkē  [kírkɛː] – was a sorceress, best known for transforming Odysseus' crew into animals with her magical wine. Inspired by this mythological enchantress, and after reaping the grapes of the metal and rock culture in the likes of Kvelertak, Mastodon or Tool, KHIRKI has created their very own and original, sweet tasting drink, an essence of finest rock 'n' roll, progressive metal spheres and traditional music of their place of origin, ready to be served as Vinyl and Digital formats on May 21st!
The trio's debut album Κτηνωδία ( pronounced: Ktinodia ) features a cohesive set of eight mostly fast- paced, uplifting songs. Its progressive mood is infectious, mesmerizing by the tribal-like dancing chants, Κτηνωδία dives deep into an original sound heavily inspired by Anatolian and Balkan folk music. Orchestrated by acoustic and traditional instruments highlight the seducing folk atmosphere; yet Κτηνωδία is heavy at heart, a metal record that will crush ears and minds.
Κτηνωδία was recorded by Theodore Zefkilis at Sca Studios (Rotting Christ, Planet of Zeus) in Athens between Autumn of 2019 and Spring 2020.
Κτηνωδία Tracklisting:
1. Deadpan
2. Black And Chrome
3. Raging Bull
4. Medea
5. Bukovo
6. The Barkhan Dunes
7. Wolf's Lament
8. Stara Planina