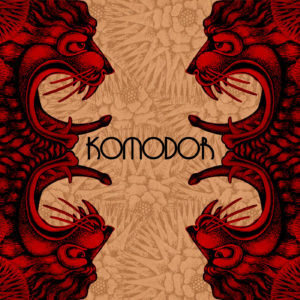 Sometimes we are bound to make huge mistake just because we misunderstood the release of a band. The first time I read the email about Komodor, I associated it with the 1970s funk band, which I respect, but here's not exactly the right place to them. But then, I received another email which I read carefully again. You know, the little voice inside your head telling you to do or not to do things. Some may call it conscience. Well, my child of the night, Komodor aren't Metal at all, but as you may have noticed, we are reviewing also proto-Metal, heavy,  psychedelic, acid rock bands as well. That's where Komodor fit. A hell of great 1970s influenced band with lots of Grand Funk Railroad even with the mighty keyboarding.
"Komodor" is their debut EP and it makes you get back to the early 1970s – well, if you've been there or not. Komodor did a hell of a musical and tone research. They replicated exactly how instruments sounded back then. Listen to the guitar sound in "1984" – yeah, I know, how come, but… Great tones and technique. This analogy with Grand Funk Railroad gets closer when we listen to "Join the Band" and remind of Grand Funk Railroad' "We're an American Band." It's impossible not to. But believe me, Komodor are much more. Of course, any band in this sad and lonely planet will write a song that will remind of any other, specially if you dive into the deep oceans of retro rock. But nevermind. The guitar passages in the end of it makes the song unmatchable.
Komodor "Komodor" is for the ones who want to make a travel to the past. As I always say, if you want to know Heavy Metal's roots, here's a great band to make you trip.
Komodor "Komodor" will be released on January 19th via Soulseller Records.
Track Listing:
Still the Same
Join the Band
Nasty Habits
1984
Watch the teaser here: