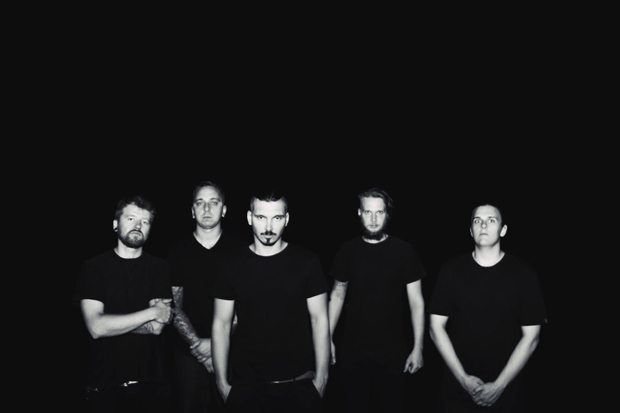 Polish death/prog metal machine KORONAL will embark this April on a European tour supporting their last year's debut album "Flicker Away". The band who recently performed at the  Euroblast festival in Cologne will be joined on this tour by  Selfmachine, Unprocessed, Fractal Universe and X-Panda, making for a killer package that everyone should see live. Check out the tour dates below.
KORONAL are working on a new album which is expected to be released later this year. The band has lined up quite a few live performances after the release of their full-length debut, and they teamed up with video producer Magnus Jonsson of Filter Film who did a video for the single "Usurper." Jonsson has previously worked with likes such Meshuggah and Kamelot.
Modern metallers from the Netherlands, SELFMACHINE, release their new album entitled "Societal Arcade" on March 17th. Nancy, France-based prog metal outfit FRACTAL UNIVERSE will release their full-length debut "Engram of Decline" via Kolony Records in April. Estonian sympho progsters X-PANDA and Wiesbaden, Germany's UNPROCESSED both have releases from 2016. X-PANDA released a great follow-up to 2011's "Flight of Fancy"; the new album titled Reflections gained positive reviews from all around the world. UNPROCESSED's EP "Perception" has brought a lively mixture of djent and progressive metal.
KORONAL + SELFMACHINE + UNPROCESSED + FRACTAL UNIVERSE + X-PANDA European Tour Dates:
APR 19 Bielsko-Biala, POLand @ Rudeboy Club
APR 20 Prague, Czech Republic @ Exit-US
APR 21 Brug, Switzerland @ Piccadilly
APR 22 TBA
APR 23 Borgo Priolo, Italy @ DAGDA Live Club
APR 25 San Giovanni Lupatoto, Italy @ Il Blocco Musıc Hall
APR 26 Luxembourg, Luxembourg @ Rock Box
APR 27 Essen, Germany @ Walkabout Live
APR 28 Lodz, Poland @ Rockowanie w LDK